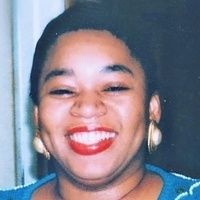 Lisa Lorraine Washington (47) of Indian Head, Maryland. Lisa Lorraine Washington departed this life peacefully on May 5, 2018 at George Washington University Hospital in Washington, DC. Lisa was born on July 1, 1970. She was born the youngest of six children to Arthur M. Washington and the late Hester E. Washington in Washington, DC.

Lisa attended Charles County public schools where she had a love for learning. She enjoyed watching lifetime movies, listening and dancing to soulful R&B music and riding her Moped. Lisa was loved by many people, especially her nieces, nephews, sisters and aunts.

The most joyous moments in Lisa's life were being around family and friends, enjoying life to the fullest. She also loved taking care of her dad; making sure he had everything he needed. While her other sisters and brothers were off working, Lisa was at home cooking, cleaning and keeping things running smoothly. These were the moments she cherished the most in her day-to-day life. She was a good hearted and kind person, never hurtful to anyone. She was loved and will surely be missed by everyone who her life touched.

Lisa was preceded in death by her mother, Hester E. Washington and her sister, Barbara J. Posey. Lisa leaves to cherish her memories, her father, Arthur M. Washington; brothers, Clifton Washington and Ernest Washington; sisters, Hester Bannister and Patricia Page; brothers-in-law, John Bannister and Charles Page; sisters-in-law, Toni Washington; Aunts, Catherine Brown and Romaine Savoy; Uncle, Randolph Savoy; Nieces, Portia Posey, Latarsha Bannister and Keana Page; Nephews, David Barnes, Steve Carroll, Clifton Washington, Jeremy Bannister, Isaac Page and Joshua Bannister; great nieces, Davina Gaines, Shanice Carroll, Deonna Mack and Katoria Washington; great nephews, Malik Burns, Davon Barnes, Stephan Barnes, Damian Broome, Eric Broome, Jaylen Bannister and a host of loving cousins and dear friends.

Her Viewing will be, 10:00 am until time of Service, 11:00 am on Friday, May 18, 2018 at Alexandria Chapel United Methodist Church, 5605 Chicamuxen Road, Indian Head, Maryland 20640. Arrangements by Thornton Funeral Home.