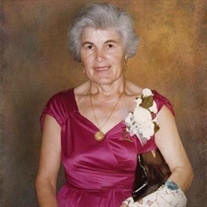 Segunda DeNavas, of La Plata, Maryland, was called to heaven on May 5th, 2018 at the tender age of 95. Segunda was born in a mountain village in Spain and immigrated to America to "the land of streets paved in gold." She met her late husband, Joseph L. DeNavas, whom she soon married and had four children. They settled in Washington, D.C. and later moved to Forestville, Maryland in the late 1960's. After her husband's death, Segunda moved to La Plata, Maryland.

Segunda was known to everyone as "grandma". She was a sweet, kind, gentle and saintly woman. Her passion was caring for her family and serving the lord. Her hobbies consisted of wine making, gardening, canning, and bird watching. Once you met her, you were not just her friend, you became her family. Segunda most loved spending time with her seven grandchildren and four great grandchildren. She loved everyone, including her many canine companions over the years that kept her company.

Segunda is survived by her son Joseph DeNavas and wife Lela DeNavas; Harry Shasho, husband of Segunda's late daughter Mary Shasho; daughter Carmen DeNavas-Walt; and daughter Linda Keska and husband Frank Keska. Segunda is also survived by her grandchildren Christopher Shasho and his wife Sarah Shasho, Teresa Shasho Clark, Justin Walt, Melissa Walt, Joseph DeNavas, Sarah DeNavas, and Laura DeNavas. Surviving great grandchildren are Charis Shasho, Jack Shasho, Anthony Clark and Isabel Rubio. She is also survived by numerous nieces and nephews in both the United States and Spain. Segunda is joining her late husband Joseph L. DeNavas, her daughter Mary Shasho, her parents and all her siblings.

Visitation is on Friday, May 11, 2018 from 10am to 11am, followed by an 11am Mass at the St. Joseph's Catholic Church in Pomfret, MD. Committal will take place at Mount Olivet Cemetery, Washington, DC, directly after the service. In lieu of flowers, please send donations to the Juvenile Diabetes Research Foundation, 26 Broadway, 14th Floor, New York, New York, 10004. Funeral arrangements provided by Raymond Funeral Service.