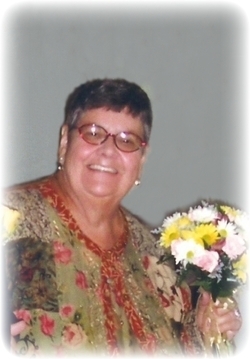 Nancy Jean Bottorf, 83, of Leonardtown, MD died on Friday, May 4, 2018. She was born on March 29, 1935 in New Castle, Pennsylvania to the late Richard and Genevieve Solomon. She was a graduate of Weir High School in Weirton, WV. Nancy was an exceptional swimmer, member of the famous West Virginia "Dolphin Club", and taught swimming to many of Marlow Heights youth in the 1950s. On September 10, 1955, she married the love of her life Jack Bottorf.

She earned her BS from West Virginia University in Morgantown, WV receiving a degree in Physical Education and minoring in English in 1957. She began her teaching career in Ashtubla, OH and eventually found her way to Prince George's County teaching at Parkdale Senior High School and Nicholas Orem Junior High School. In 1974, she started teaching English at Chopticon High School and in 1976 she was asked to help establish field hockey in the county, choosing the plaid kilts not only for Chopticon, but also Great Mills. She coached the field hockey team until she retired in 2000; bringing home three Southern Maryland Athletic Conference titles, four regional titles, a state finalist title and a state championship title in 1991. She was a the "Pride Inside" at Chopticon High School encouraging all athletes, worked as an assistant athletic director under Gene Wood and Rich O'Donnell, provided athletic training to various teams, drove the bus to camps for her teams, assisting a multitude of students to achieve his/her goals. In addition, she was a world traveler, an avid sports fan, and an avid reader. She was a true friend, a wise and sage advice giver, an encourager, great second mother to many and a wonderful grandmother.

Nancy was the wife of Jack L. Bottorf (deceased) and beloved friend of Virginia "Ginger" Williams (deceased); loving mother of Mark Y. Bottorf (Teri McCleaf) and Anne Elizabeth Vallandingham (Timothy). She is survived by brother in law Ronald Bottorf, grandchildren Samantha Bottorf, Ashley Kastronis, Tanya Bottorf (Zachary), Shane Bottorf, Caitlin Brown, Jack Brown (Tori), Hannah Vallandingham, and Blayre Vallandingham; great grandchildren Tristian and Liam Kastronis, Tuesday Fleming, Luna Bottorf, and Ryker Bottorf Fleming, nieces Brenda Bottorf, Tracy DiBacco (Teri), Kim Herceg, Beth Schneider (Todd), and nephews Rick Solomon, Mike Herceg (Ronda). She is predeceased by her parents Richard and Genevieve Solomon, her brother Richard Solomon and sister in law Mary Solomon, Sister Elizabeth Herceg and brother in law Mike Herceg, and sister in law Barbara Bottorf.

Family will receive friends for Visitation on Friday, May 11, 2018 from 7:00-9:00 p.m. and on Saturday, May 12, 2018 from 9:00-10:30 a.m. with a Funeral Service at 11:00 a.m., celebrated by Pastor Beverly Weatherly at St. Andrew's Episcopal Church, California, MD. Interment will follow in the church cemetery. The family requests that any memorial gifts be made to either the Brenda Sydnor Memorial Scholarship, Virginia "Ginger" Williams Memorial Scholarship or the Nancy Bottorf Scholarship at Chopticon High School. Arrangements by the Brinsfield Funeral Home, P.A., Leonardtown, MD.