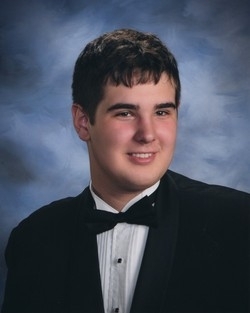 Alexander Scott Campbell, 24, of Leonardtown, MD passed away Friday, May 4, 2018. He was born on April 28, 1994, in Prince Fredrick, MD to Thomas Daniel and Renee Buckler Campbell of Leonardtown, MD. In his younger days, Alex enjoyed scouting, working his way through the ranks from a Tiger Scout in Pack 561 to a Second Class Boy Scout in Troop 303. Alex swam with the Town Creek Sharks swim team for much of his youth and participated in T-Ball, baseball, Tae Kwon Do and tennis camps. At age 5 he learned to play the violin and continued in the school orchestras throughout high school.

He developed a deep love for all creatures, rescuing every possum, turtle and skink that came his way. He managed to talk his parents into many hedgehogs, hamsters, snakes, frogs, along with a cat and dog he rescued. That love evolved to include volunteering to care for cats with SMAWL. Alex worked as a cook at several restaurants in St. Mary's County, a job he enjoyed and took great pride in. He also trained to be an HVAC technician through CSM and had his sights on becoming a lineman at the time of his death. He had a passion for cars and could tell you absolutely anything about them. Alex was a sensitive, kind and caring soul who was loved deeply by many.

Alex is survived by his parents, Renee and Danny Campbell; his sister, Maggie Campbell of Leonardtown, MD; grandparents, Richard and Patricia Buckler of Leonardtown, MD and Helen Campbell of Irmo, SC; his aunt and uncle, Annette and George Nuebling and their children, Ethan and Lauren Nuebling; and many extended family and friends.

Family will receive friends on Friday, May 11, 2018 from 5:00 p.m. to 8:00 p.m., at Brinsfield Funeral Home, 22955 Hollywood Road, Leonardtown, MD 20650. A Funeral Service will be held on Saturday, May 12, 2018 at 11:00 a.m. at Brinsfield Funeral Home. Interment will follow at Queen of Peace Cemetery, Helen, MD. Memorial contributions can be made in Alex's name to the St. Mary's Animal Welfare League (SMAWL), P.O. Box 1232, Leonardtown, MD 20650. Arrangements by the Brinsfield Funeral Home, P.A.