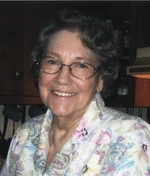 Mary Esther Pilkerton, 85, passed away peacefully on May 3, 2018 at St. Mary's Hospital surrounded by her loving family. Born on September 9, 1932 in Clements, MD, she was the daughter of the Elizabeth A. Quade and Phillip C. Quade of Clements, MD. Esther was the loving wife of the late Daryl A. Pilkerton, Sr. whom she married on December 26, 1950 in St. Joseph's Catholic Church Morganza, MD and who preceded her in death on January 26, 1997.

She is survived by her children; Daryl A. Pilkerton, Jr. (Barbara) of Hollywood, MD, Ann D. Cooper of Avenue, MD, Cecil D. Pilkerton of La Plata, MD, Richard W. Pilkerton, Sr. (Connie) of Callaway, MD, and Debra J. Fedders (Roy) of Dameron, MD. 6 Grandchildren; Carol J. Lundregan (Tommy), James L. Cooper, Jr., Richard W. Pilkerton, Jr. (Courtney), Kristina L. Clark (Guy), Timmy Norris and Amanda Norris. 7 Great-Grandchildren; T.J. Lundregan, Madison Lungregan, Sadie M. Clark, Jaidyn Norris, Joshua Garner, Serenity Norris and Jeremiah Norris. Siblings; Thomas Quade (Peggy) of Charlotte, Hall, MD and Everett Quade of Avenue, MD. Esther is preceded in death by siblings; Dorothy Knott (Arthur), Rhodie Quade (Louise), Richard Quade (Rachel), Calvin Quade, Cecil Quade (Max) and Benjamin Quade (Betty).

Esther was a lifelong St. Mary's County MD resident and attended St. Joseph's Catholic School and Margaret Brent High School. She was employed as a Breaker Calibrator for Minitec Plant for 13 years retiring in 1992. Esther was an avid reader and enjoyed baking cakes especially wedding cakes for the children and grandchildren. Her best friend was the late Velaria Stauffer. She cared deeply for her sister-in-laws Marie, Rachel, Mary Agnes, Kitty, Phyllis and June.

The family will receive friends on Tuesday, May 8, 2018 from 5:00-8:00 PM with prayers recited at 6:45 PM in the Mattingley-Gardiner Funeral Home Leonardtown, MD. A Mass of Christian Burial will be celebrated on Wednesday, May 9, 2018 at 12:30 PM in Holy Angels Catholic Church Avenue, MD with Father Anthony Lickteig officiating. Interment will follow in Sacred Heart Catholic Cemetery Bushwood, MD. Pallbearers will be; Guy Clarke, Tommy Lundregan, David Gray, Richard Gray, Cheryl Russell and Terry Russell. Honorary Pallbearer will be Johnny Quade.