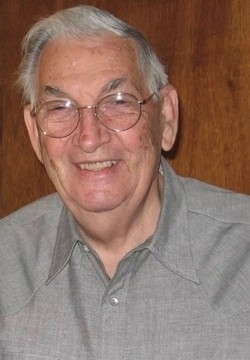 Thomas Melvin Wheatley, 92, of Leonardtown, MD passed away Wednesday, May 2, 2018 at Hospice House in Callaway, MD. He was born on February 28, 1926 in Washington, D.C. to the late William Henry Wheatley and Frances Burkhart.

Tom proudly served in the United States Navy from February 24, 1944 to his honorable discharge in March 2, 1947 as a Seaman First Class. He was employed as a Salesman for General Cigar Company in New York until his retirement. On January 15, 1950, he married his beloved wife, Cecelia Wheatley. Together they celebrated over 44 wonderful years before her passing in 1994.

As a skilled and talented carpenter he made many beautiful and high quality pieces of furniture. He also enjoyed making and painting decoys. Tom loved to dance and belonged to the "Country Steppers." His hobbies included gardening, landscaping, collecting coins, making necklaces, and putting together jigsaw puzzles. He regularly took long walks with his pet beagle of 19 years. He also enjoyed volunteering with Meals on Wheels. His family was his greatest love, especially his grandchildren, whom he loved spending his time with.

He is survived by his daughter, Elaine Dye (Thomas) of White Hall, PA; his grandchildren: Bryan Sangkavasi, Emily Prevas, and Scott Sangkavasi; great grandchildren: Mallory, Sam and Grace; Ebby's dear niece and nephew, Billy and Stacey Alvey of Mechanicsville, MD; and many extended family and friends. In addition to his parents, he is also preceded in death by his wife, Cecelia Wheatley; his son, Don Wheatley; his loving companion, Evelyn Ruth "Ebby" Hays; and his siblings: William Wheatley, Clerance Wheatley, Lillian Wheatley, Mildred Wheatley, Laura Wheatley, Violet Wheatley, Francis Wheatley, Georgie Wheatley, and Edna Wheatley.

The family will receive friends on Wednesday, May 9, 2018 from 4:00-6:00 p.m., with a Funeral Service celebrated by Pastor Mark Dooley at 6:00 PM, at the Brinsfield Funeral Home, P.A. 22955 Hollywood Road, Leonardtown, MD 20650. A Graveside service will be Thursday, May 10, 2018 at 2:30 p.m. at Maryland Veterans Cemetery in Crownsville, MD. Memorial contributions may be made to the Hospice House of St. Mary's, P.O. Box 625, Leonardtown, MD 20650. Arrangements by the Brinsfield Funeral Home, P.A.