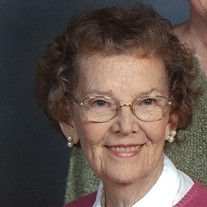 Doris Frere, long-time resident of Bel Alton, passed away on May 2, 2018, after a long illness. Mrs. Frere was born in DeLand, Florida on October 15, 1926 to Beacham Montague Hatch and Marion Leona Mason. Her father moved the family often during the Depression as he looked for better opportunities. She moved north with her family in the 1940's, and while at Eastern High School in Baltimore, attended the Maryland Institute of Art at night.

Her first job was working as a Draftsman at Fort Belvoir in Virginia during World War II, where she met her future husband, Samuel Phillips Frere. They were married from 1945 until his passing in 2010. For many years she worked for the Tri-County Council for Southern Maryland, drafting, creating maps, brochures, and traveling with displays promoting local tourism.

Mrs. Frere was an exceptional artist, working in watercolors, oils, stained glass, and her favorite – hand-painted china. She was a member of the Northern Virginia Porcelain Artists, and also taught china painting. Her artwork was published in several China Painting magazines and graced a number of their covers. She enjoyed traveling in Europe and was always on the lookout for inspiration for her beautiful china. She was an avid collector of antiques and was a member of the Charles County Antiques Arts Association.

Mrs. Frere was predeceased by her parents, husband Phil, and sister Marion Cronhardt Hisler. She is survived by her daughter Phyllis Elaine Frere, brother Roy George Hatch, and many nieces and nephews. In accordance with her wishes, there will be no viewing and services will be private. Donations in her memory may be made to the charity of your choice.