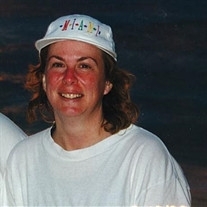 Denise Marie McMahan, age 58, of La Plata, Maryland, died May 3, 2018 at the University of Maryland Charles Regional Medical Center in La Plata, Maryland.

Denise was the Owner/Operator of Denise McMahan Certified Public Accountants for 35 years and a member of Kneeling Point Church in White Plains, Maryland. She was a past volunteer and officer with the Charles County Humane Society. She was an avid scuba diver with over 1,000 dives. She treasured date nights at Jerry's Place in Prince Frederick, Maryland with her husband, Paul.

She was the daughter of Franklin Everett DeHart and Joyce P. Gardner DeHart. She is survived by her husband of 40 years, Paul C. McMahan; her step-mom, Mary DeHart; and her brothers, Mark DeHart (Roberta) and Michael DeHart (Theresa).

A Life Celebration will be held at a later date. Memorials in Denise's name are asked to the American Cancer Society, PO Box 22718, Oklahoma City, Oklahoma 73123-1718. Arrangements by Raymond Funeral Service.