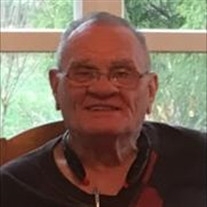 William Gerald Fitzpatrick, 77, of La Plata, MD passed away on April 30, 2018 at Reston Hospital Center. William was born on January 25, 1941 in Washington, DC to the late William Joseph and Evelyn Ann Pugh Fitzpatrick. William was the owner of Shamrock Properties where he was a real estate broker for over 50 years having one of the oldest real estate licenses in the La Plata area. He also had sold life and auto insurance, owned a talent agency, a carpet store and two restaurant/bars. He was a member of the DC Association of Hand Dancers and Camp Springs Elks Lodge.

In addition to his parents he is predeceased by his brother Dennis Fitzpatrick and the mother of his children Brenda Lynn Fitzpatrick. He is survived by his children; James Randel Fitzpatrick (Sandra Dee Torres) and Shawn Brett Fitzpatrick (Heidi), two grandchildren; Brandon Fitzpatrick and Devin Fitzpatrick and sister Lynne Anne McGilvray (Andrew).

Visitation will be on Friday, May 11, 2018 from 9:00AM until time of Mass of Christian Burial at 10:00AM at Sacred Heart Catholic Church, 201 Saint Mary's Avenue, La Plata, MD 20646. Interment will follow at Sacred Heart Catholic Cemetery. Arrangements by Raymond Funeral Service.