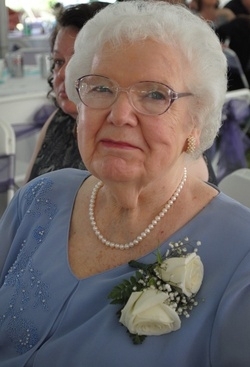 Violet Maxfield, 82, of Mechanicsville, MD died on April 28, 2018. Her last days were spent at the Hospice House of St. Mary's surrounded by loving family and friends. Violet was born in Java, VA on February 8, 1936. She was the daughter of the late Andrew J. Cates and Stella (Lovelace) Cates.

Violet moved to Maryland in 1966. She held various administrative office positions in the Washington, DC area before retiring in 1985 as office manager of District Glass Co. She moved to Golden Beach after retirement and was a member of the Golden Beach Ladies Club. She attended Faith Bible Church and had tremendous faith, enjoying reading the Bible and talking about God and how living by His word is so important to our lives.

Always carrying a smile on her face, she loved people and never met a stranger. She always looked for the good in everyone and cared deeply for her family and friends. She was a loving wife, mom, grandma, GiGi, sister, aunt, and was also a "second mom" to several very special people. If anyone ever had a problem she was there to help them out.

She didn't like her hair out of place and almost always had her #575 pink lipstick on. When people asked about her beautifully smooth skin she always told them about Ponds cold cream and Oil of Olay. She loved to cook and especially loved being surrounded by family to enjoy her holiday meals. Her German chocolate and apple cakes, pies, and turkey dinners will never be forgotten. She also enjoyed working in her yard, planting and caring for flowers, and feeding and watching the birds, especially hummingbirds.

Violet is survived by her daughter, Bonnie Zamaitis (Ed) of Mechanicsville, MD; son, James Slaughter III of Chatham, VA; step daughter, Pamela Eddy (Ray) of Vacaville, CA; step son, Kennie (Rocky) Maxfield III (JoAnne) of Preston, MD; sister, Joyce Shelton (Donald) of Gretna, VA; brother in law, Swanson Walker of Martinsville, VA; eleven grandchildren, eleven great grandchildren, and many nieces and nephews.

In addition to her parents, she is preceded in death by her husband, Kennie Maxfield, Jr.; son, Robert (Bobby) Slaughter; granddaughter, Jennifer Zamaitis; sisters, Rosie Raynor, Hester Epps, Mary Hardy, Elsie Walker, and Cora Andrews. She was adored by her family and friends and will be held forever close to our hearts.

A Life Celebration Visitation will be held at Brinsfield Funeral Home, P.A. of Charlotte Hall, MD on May 8 from 5:30-8:00PM with prayers at 7:00PM. Interment will be held at the Cheltenham Veterans Cemetery, Cheltenham, MD on May 9 at 2:30PM. Memorial contributions may be made to Hospice of St. Mary's, P.O. Box 625, Leonardtown, MD 20650. Arrangements by the Brinsfield Funeral Home, P.A., Charlotte Hall, MD.