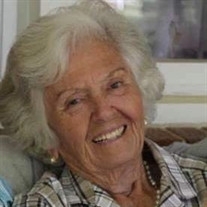 Lottie Louise McElhaney, age 89 of La Plata, Maryland, died April 29, 2018 at Charlotte Hall Veterans Home. Lottie was a homemaker. Her passion was going to Yard Sales every Saturday, rain or shine. She enjoyed her many finds as she was building so many collections. She loved her Squirrels many she raised from mere babies to adulthood and kept them as pets. She had artistic talents which were enjoyed by her children and friends. Lottie also enjoyed her Winter home in Florida spending time with her Snowbird friends. She knew no strangers.

She was the daughter of Marshall Davis Chestnut and Mary Todd Chestnut. In addition to her parents, she was also predeceased by her husband, Neal R. McElhaney Sr.; her son, Carl Dean Hardee; her sisters, Gertie Wilder and Pam Adams; and her brothers, Lloyd and Hal Chestnut. She is survived by her sons, John D. Hardee Jr.(Christel), Michael D. Hardee (Kathy), and Neal R. McElhaney Jr. (Belynda); her daughters, Sandra L. Guarini (Jerry), Kathy R. Hardee, and Kelly M. Lowther (Bill); her brother Wendell Chestnut; and her sisters, Gloria Zwack and Sarah Percival. Also survived by 15 grandchildren and 20 great grandchildren.

Friends received on Wednesday, May 9, 2018 from 2:30PM until time of Memorial Service at 4PM at Raymond Funeral Service Chapel, 5635 Washington Avenue, La Plata, Maryland 20646. Memorials in Lottie's name are asked to be made to Charlotte Hall Veterans Home, 29449 Charlotte Hall Road, Charlotte Hall, Maryland 20622.