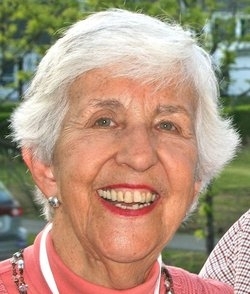 Lucile Roesler "Lucy" Bollman of Solomons, MD and Bronxville, NY passed away on April 27, 2018 at her home surrounded by her loving family. She was born on September 25, 1932 in Amsterdam, Holland to the late Norbert Roesler and Elly van Tienhoven.

After graduating from the Masters School, Dobbs Ferry, NY, Lucy earned her BA from Wheaton College, Massachusetts. In 1957 she married her beloved husband, McWilliam Voltz "Mac" Bollman in Tuxedo Park, NY. Together they celebrated over 56 wonderful years of marriage before his passing in 2013. They lived in Brazil, Japan, Korea and Indonesia and returned to New York in 1980. In 2016, Lucy left her Bronxville home and moved to Asbury Solomons in Southern Maryland. Lucy had a career in travel and always participated in her communities' charitable activities. She enjoyed her participation in the regional Encore singing group, which included a performance at the D.A.R. Constitution Hall in Washington, DC. Lucy's welcoming demeanor and sense of humor will be missed by all.

Lucy is survived by her children Mac Jr. (Shelly) of Clifton, VA and Elly (Anthony) of California, MD; her sister, Charlotte Lindsey of Seattle, WA; her grandchildren: Anthony Schmidt and Emily, Michael and Caroline Bollman; and many extended family members and friends.

A service will be held at 3:30 PM, Sunday, May 6, 2018 at Asbury Solomons, MD. Her funeral will be at the Mountain Grove Memorial Church in Huletts Landing, NY on Saturday, May 26, 2018. In lieu of flowers, donations may be sent to Calvert Hospice, 238 Merrimac Ct, Prince Frederick, MD 20678, (410) 535-0892 or the Patuxent Presbyterian Church, 23421 Kingston Creek Rd, California, MD 20619. Arrangements by the Brinsfield Funeral Home, P.A., Leonardtown, MD.