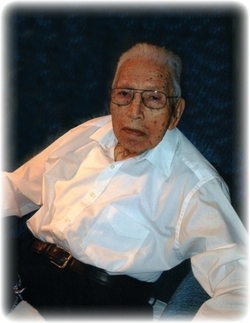 AMSC Antonio "Tony" Campos, USN (Ret.), 96, of Charlotte Hall, MD passed away Friday, April 27, 2018 at MedStar St. Mary's Hospital in Leonardtown, MD. He was born May 4, 1921 in San Antonio, TX to the late Juan Campos and Fermina Morales.

Tony proudly enlisted in the United States Navy and dedicated over 32 years of service to his country until his retirement in November 1975. He traveled extensively, from California to the Great Lakes, throughout Europe and North Africa. Upon retirement, he began his second career at Morale, Welfare, and Recreation (MWR), where he dedicated another 20 years. He earned the Lifetime Achievement Award and was Mr. Pax River during his tenure at MWR. On March 21, 1953, Tony married his beloved wife, Mary Theresa Campos in North Carolina. Together they celebrated over 63 wonderful years of marriage before her passing in 2016.

He was a softball enthusiast and started the Pax River Bombers softball team on the Patuxent River Naval Base in 1951, while stationed there. He was the past manager and part of the Pax River Bombers Association for 48 fun years. In 1983, the Campos Field, located by the Drill Hall on the base was dedicated in his honor. He was inducted into the St. Mary's County Hall of Fame on March 6, 1997. He was a member of the St. Mary's County Hall of Fame, the American Legion Post 255 (Ridge), the VFW Post 2632, and the USSSA United States Specialty Sports Association.

Tony is survived by his children: Helen Sanchez of San Antonio, TX, Vangie Ridjas of San Antonio, TX, Cherrie Kunkel (Tom) of St. Inigoes, MD, Antoinette Prowls (Tracy) of Manitowoc, WI, Deborah Young of Hollywood, MD, Carrie Nielson (Jac) of Magna, UT; 19 grandchildren; 19 great grandchildren; and many extended family and friends. In addition to his parents and beloved wife, he is also preceded in death by his siblings: Refuigo "Ray" Morales, Manuel Morales, Carrie Agnew, and Agnes Hamilton, and his children: Teresa Shaw and Paul C. Campos.

Family will receive friends on Thursday, May 3, 2018, from 10:00 a.m. to 11:00 a.m. at Brinsfield Funeral Home, 22955 Hollywood Road, Leonardtown, MD 20650. A Graveside Service will be celebrated by Reverend Joe Orlando at Evergreen Memorial Cemetery, 22020 Chancellors Run Road, Great Mills, MD 20634. In lieu of flowers, donations may be made to the American Diabetes Association, 1701 N. Beauregard Street, Alexandria, VA 22311. Arrangements by the Brinsfield Funeral Home, P.A., Leonardtown, MD.