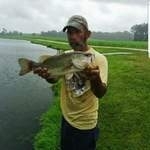 Dan Alen Sparks, "Doe Doe", 56, of Hollywood, MD formerly from Great Mills, MD passed away on April 24, 2018 in Hollywood, MD. Born on February 5, 1962, he was the son of the late Cleo Sparks and George Sparks. Dan is survived by his wife Mary Lou Sparks, whom he married on May 28, 1988 in St. John's Catholic Church Hollywood, MD.

Dan is survived by his children; Joshua Sparks and Abby Sparks both of Hollywood, MD. Siblings; George Sparks of Hollywood, MD, Bobby Sparks of Hollywood, MD, Wally Sparks of Great Mills, MD, Tommy Sparks of Great Mills, MD, Chris Sparks of Great Mills, MD, Steve Sparks of Great Mills, MD, Janice Chaney, Debbie Shoreback, and Dee Dee Norris. He was preceded in death by his brothers; James (JD) Sparks, Ernie Sparks, and Barry Sparks. He was a lifelong St. Mary's County, MD resident. Dan was the Co-Owner of J.A. Norris Concrete in Hollywood, MD for 32 years.

The family will receive friends on Tuesday, May 1, 2018 from 5:00 PM-8:00 PM with prayers at 7:00 PM in the Mattingley-Gardiner Funeral Home Leonardtown, MD. A Funeral Service will be held on Wednesday, May 2, 2018 at 10:00 AM in the Funeral Home Chapel with Deacon Ammon Ripple officiating. Interment will be private. Honorary Pallbearers will be; Joshua Sparks,Jacob Sparks, Jamie Woodall, Dustin Mills, Michael Raley, Tyler Jones, George Sparks, David Burroughs, Ricky Guy, Mike Sparks, Kyle Guy, Wally Sparks, and Woody Woodland, Dillon Wathen, and Shane Burroughs.