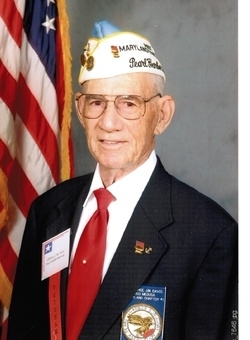 Clarence J. M. Davis, 94, a resident at Spring Village of Wildewood Assisted Living in California, MD, passed away peacefully on April 22, 2018. Before moving to Spring Village in 2015, he lived in Charlotte Hall, MD, for 33 years, as well as Longview, TX, and Oakville, MD. Born October 31, 1923 in Hoxie, Arkansas, he was the son of Oliver Lee Davis and Mae Anderson Davis.

He enlisted in the U.S. Navy in early 1941, and following basic training and electronics school, he received his first assignment: radioman aboard the repair ship U.S.S. Medusa, Pearl Harbor, Hawaii. When the Japanese attacked Pearl Harbor on December 7th, the Medusa was moored on the opposite side of Ford Island from battleship row. After the attack. Mr. Davis saw action in the Pacific for the next four years including the Battle of Okinawa and the final landing of occupying forces in late August,1945. Interestingly, he was aboard one of the many ships anchored in Tokyo Bay when the peace treaty was signed, thus making him one of only a handful of Navy personnel to "bookend" the war. At that time, he was also promoted to the rank of Chief Petty Officer after only four years' time-in-service.

Following the war, Clarence served as a teletype and cryptographic repairman at various assignments in­cluding Newfoundland, Ethiopia, the Mediterranean, and Norfolk, Virginia. He completed his 20-year ca­reer in the Navy on the staff of the Commander in Chief of the Atlantic Fleet as a Senior Chief Petty Officer.

In 1960, he became a civilian employee at the Patuxent River Naval Air Station and worked as an electronics technician for the next 14 years. Actively involved in all aspects of the local school system, he was appointed to the St. Mary's County Board of Education in 1972 and served one 4-year term.

In retirement, Clarence was an avid golfer who typically played 2-4 times a week all year long, always walking the course. He was also very involved in the Pearl Harbor Survivors Association, serving as Maryland State Chairman, chapter president, flag bearer, and guest speaker - participating in many patriotic ceremonies throughout the region. He was the last surviving member of the Maryland chapter.

Clarence is predeceased by his wife of 68 years, Sara McGlocklin Davis, as well as his parents and sister, Lela Marie Shaver. He is survived by his son, David Michael Davis (Kathleen) of Leonardtown, MD; his grandson, Eric Michael Davis (Anita) and 3 great-granddaughters: Jayna, Camryn, and Brea Davis of Stillwater, MN.

Inurnment will be held at the Maryland Veterans Cemetery, Cheltenham, MD at a later date. Memorial contributions may be sent to Hospice of St. Mary's, P.O. Box 625, Leonardtown, MD 20650 or the Alzheimer's Association, P.O. Box 96011, Washington, D.C. 20090-6011. Arrangements by Brinsfield Funeral Home.