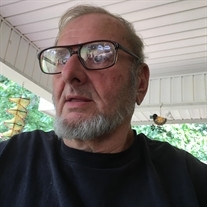 John Ira Schmiedel, age 69, of Newburg, Maryland, died April 21, 2018 at Southern Maryland Hospital Center in Clinton, Maryland. John was a Vietnam Veteran and then a self-employed Diesel Mechanic for 40 plus years, often called the "Diesel Doctor." He also worked for Safeway, Bowie Hall Metro, and JMX. He never knew a stranger and would help anyone. He loved fishing, boating, camping in his camper, and spending time with family and friends. He was always joking and making people smile.

He was the son of Edward Jerome Schmiedel and Louise Estell Sprouse Schmiedel. In addition to his parents, he was also survived by his daughter, Nancy Shirley; his sister, Elizabeth; his brother, Paul; his father-in-law, Eldridge Rathbone; and his brother-in-law, Terry Rathbone. He is survived by his brother, Peter Sileap; his sister, Brenda Wurst; his grandchildren, John C. Shirley, Heather Shirley, and Cheyane Shirley.

Friends received on Thursday, May 3, 2018 from 10:30AM until time of Funeral Service at 12PM at Raymond Funeral Service Chapel, 5635 Washington Avenue, La Plata, Maryland 20646 with Interment to follow at 1PM at Maryland Veterans Cemetery, 11301 Crain Highway, Cheltenham, Maryland 20623. Memorials are asked to Southern Maryland Center for Independent Living, 38588 Brett Way, Suite 1, Mechanicsville, Maryland 20659.