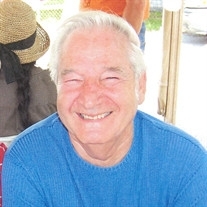 Homer Alexander "Ace" Lewis, Jr., age 82, of Waldorf, Maryland, died April 22, 2018 at his residence with Hospice. Ace was a retired Master Sgt. with the U.S. Army and a member of Calvary Gospel Church in Waldorf, Maryland. He worked for 25 years with National Federal Credit Union. He also spent 40 years running the Walter Reed Base Bowling Alley where he taught the youth and many others how to bowl. He was a great roller skater and was on The Ed Sullivan Show where he demonstrated his skating skills. He loved hunting and fishing in West Virginia and was a Redskins fan.

He was the son of Homer Alexander Lewis, Sr. and Opal S. McReynolds Lewis. In addition to his parents, he was also predeceased by his wife, Dolores A. Lewis and his sister-in-law, Geneva Lewis. He is survived by his sons, David A. Lewis (Elena), Michael R. Lewis, and Ricky A. Lewis (Patty); his daughters, Vicki Lee Lewis and Donna Warren (Roger); and his brother, Bobby R. Lewis. He is also survived by nine grandchildren, nine great-grandchildren and numerous great-great grandchildren.

Friends received on Thursday, April 26, 3028 from 5-8PM and where Funeral Service will be held on Friday, April 27, 2018 at 11AM at Raymond Funeral Service Chapel, 5635 Washington Avenue, La Plata, Maryland 20646. Interment to follow at 12:15PM at Trinity Memorial Gardens, 3221 Mattawoman-Beantown Road, Waldorf, Maryland 20601 with full Army Honors. Memorials in Ace's name are asked to Alzheimer's Association, PO Box 96011, Washington, DC 20090-6011.