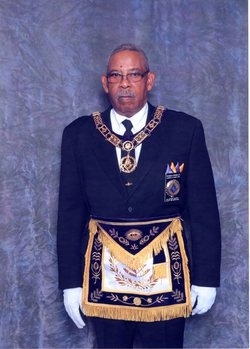 AZ1 Reginald "Reggie" Brown, Jr., USN, (Ret.), 70, of Hollywood, MD, passed away on Wednesday, April 18, 2018 at MedStar St. Mary's Hospital surrounded by his loving family. He was born November 25, 1947 in Manhattan, NY to the late Reginald Brown, Sr. and Edith Mae Fitch.

In July 1966, Reggie proudly enlisted in the United States Navy and served his country until his honorable discharge in August 1988 as a First Class Aviation Maintenance Mate. After retirement, he was employed by DynCorp, a defense contractor for many dedicated years. He travelled the world extensively with the Navy and enjoyed visiting many different countries. He was an excellent cook and grill master making many delicious dishes and fall off the bone ribs. Reggie loved to play the Maryland Lottery and was a starch Dallas Cowboy fan. He was a quiet man but had a heart of Gold, if you were ever in need of anything,

R.W. Reginald Brown, Jr., 32nd, Degree, was a longtime devoted member of the Masonic Lodge: Joseph A. Egans Lodge #104 in Valley Lee, MD; James A MINGO Consistory #334 in Akokeek, MD, and TUWA Temple #228 in Annapolis, MD. He was a member of the Zion United Methodist Church in Lexington Park, MD. He was a member of VFW Post 2632 of California, Maryland and Pride of St. Mary's Elks Lodge, of Valley Lee, Maryland

Reggie married the love of his life, Barbara Scriber, on November 4, 2004. Barbara comes from a large family and Reggie immediately fit right in as a member of the family. Reggie and Barbara traveled, a Cruise to the Bahamas and Las Vegas several times and he accompanied her on many bowling trips. On one of the bowling trips to Detroit, he was able to connect with cousins he hadn't seen since he was child, and they have stayed connected.

In addition to his beloved wife, Reggie is also survived by his mother Helen Brown, Teaneck, NJ, children: Sharmell Brown of GA, Renee Brown of Harlem, NY, Regina Brown , of Postmouth, VA, Tiffany Swales of Leonardtown, MD, and Reginald Brown III of Lexington Park, MD; his step-son, Keith Scriber of Hollywood, MD; his brother, Brian Brown (Gail) of Teaneck, NJ; 2 Nephews , David and Courtney 3 grandchildren, Desiree, Krisma, and Renall, and 3 great grandchildren, Courtney, Aniya and Arjunaa and a very special friend of many years, Nathaniel Scroggins. He leaves behind a host of brother-in-laws, sisters-in-laws, relatives and friends.

Family will receive friends on Saturday, April 28, 2018 from 10:00-11:00 a.m., with a Funeral Service celebrated by Reverend Kenneth Moore at 11:00 a.m., at Zion United Methodist Church, 21291 Three Notch Road, Lexington Park, MD 20653. Interment will be Tuesday, May 1, 2018 at 10:15 a.m. at the Maryland Veterans Cemetery, 11301 Crain Highway, Cheltenham, MD 20623. Serving as pallbearers will be Glenn James, Rod Daley, Kurt Miller, Derwinn Boothe, Jason Luter and Gregory Hall. Honorary pallbearers will be Courtney Brown, David Brown, Adrian Scriber, Christopher Scriber, and James Hubbard, Jr. In lieu of flowers, memorial contributions may be made to the American Heart Association, P.O. Box 5216, Glenn Allen, VA 23058 or the American Kidney Foundation, 6110 Executive Blvd., Rockville, MD 20852. Arrangements by the Brinsfield Funeral Home, P.A., Leonardtown, MD.