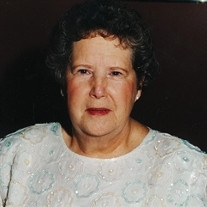 Mary Teresa Faunce, age 85, of Waldorf, Maryland, died April 19, 2018. Mary was a homemaker and was a member of St. Peter's Catholic Church (Waldorf, Maryland). She was also a member of the Hummel Club of Northern Virginia and a graduate of Benjamin Franklin University with a degree in Accounting. She retired from the CIA in Langley, Virginia as an Administrative Assistant.

She is the daughter of Harold Ruf and Alma Miller Ruf. In addition to her parents, she is also predeceased by her husband, Thomas E. Faunce). She is survived by her children, Thomas E. Faunce Jr. (Jane), Teresa M. Vest, and Joanna L. Meyer (Mick); her sister, Sara Yates; her grandchildren, Mickey, Maria, Jared, Jerry, Charlotte, and Tony; and her great grandchildren, Makenzie, Wyatt, Flynn, and Addison.

Friends received on Wednesday, April 25, 2018 from 5-8PM with Wake Service at 7PM at Raymond Funeral Chapel, 5635 Washington Avenue, La Plata, Maryland 20646. Mass of Christian Burial on Thursday, April 26, 2018 at 10AM at St. Peter's Catholic Church, 3320 St. Peter's Drive, Waldorf, Maryland 20601. Interment to follow at Resurrection Cemetery, 8000 Woodyard Road, Clinton, Maryland 20735. Memorials are asked to Hospice of Charles County, 2505 Davis Road, Waldorf, Maryland 20603 or the Alzheimer's Association, PO Box 96011, Washington, DC 20090-6011.