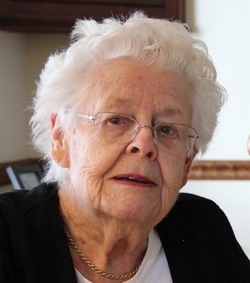 Cynthia Joan Roper Parker, 93, died April 19, 2018 at her home. Born October 2, 1924 in London, UK, she was the daughter of the late Thomas Percy Roper and Eileen Jessie Lyttle of Reading, UK. She was the wife of Nicholson Parker whom she married on August 11, 1945 at St. Peter's Church, Early, Reading, UK. He preceded her in death on July 11, 2016.

She was raised in England and there she witnessed the worst of the bombing during WWII from her home in the suburbs of London. After VE Day she joined her husband in Vienna, Austria where she began her career as an Army wife making homes in Ft. Sill, OK, Washington D.C., Germany, New York City, Ft. Leavenworth, KS, Tucson, AZ and London, UK.

After retirement she and her husband settled in their home on St. Inigoes Creek in St. Mary's County, MD. Here she remained active with 'hands-on' support of community outreach such as Meals on Wheels, HOPE hotline and Food Bank, and other activities of Trinity, Ascension and St. George's Episcopal Church. Cynthia loved to knit and was never without her knitting bag and very colorful yarn producing beautiful socks for her friends and family. She was loved by all.

She is survived by her sister, Anne Roper Ward, of Lymingon, UK; two daughters, Cynthia Anne Kennedy, of Washington, D.C. and Susan Elizabeth Parker, of St. Inigoes, MD; grandchildren, Nicole Parker Rea and Merritt Kennedy Shaw; great grandchildren, Campbell and Gardner Rea, all of Vermont.

A Memorial Service will be held at St. George's Episcopal Church, 19167 Poplar Hill Road, Valley Lee, MD 20692 at a date to be determined. Arrangements by the Brinsfield Funeral Home, P.A.