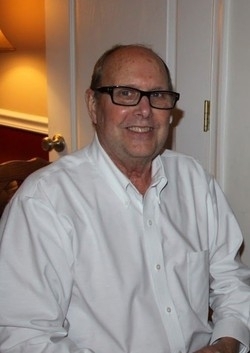 Donald W. Megby, 71, of Great Mills, MD, passed away Saturday, April 14, 2018 at Georgetown University Hospital surrounded by his loving family. Don had battled cancer for over five years and had dealt with complications due to an infection in the last week. He was a wonderful husband, father, grandfather and friend who will be greatly missed by all.

Don was born on November 29, 1946 in Fauquier County, Virginia to the late Leonard Megby and Katherine Miller.He left home to serve in the U.S. Marine Corps, in which he fought in the Vietnam War. Once he returned home he attended the University of Maryland at College park. While attending college he worked at a nearby dealership. He was so successful as a salesman, he ended up buying a Pontiac dealership in St. Mary's County and moving there.

When Don wasn't busy working, he enjoyed spending time with his family and friends. Once he retired, he enjoyed painting, birdwatching, and traveling with his wife and grandchildren. He was part of the American Legion Post 255 and a member of Life Community Church of God.

He is survived by his wife Maribel and seven children: Don Megby, Jr. of Florida, Peter Chun of Florida, Sally Adams (Kevin) of Hollywood, Maryland, Matthew Megby of Baltimore, Maryland, Linda Loving of Leonardtown, Maryland, Lizzeth Megby of Florida and Karla Haizlip (Jeremy) of Florida. He is also survived by his siblings; Joe Megby of Virginia, Kathie Harris of South Carolina and Jeanie Murff of Texas, eight grandchildren and a great granddaughter. He is preceded in death by his parents and daughter, Amy Babb.

Family will receive friends and family on Tuesday, April 24, 2018 from 10:00-11:00 a.m., with a Funeral Service celebrate by Pastor Brian Shepard at 11:00 a.m., at Brinsfield Funeral Home, P.A., 22955 Hollywood Road, Leonardtown, MD 20650. Interment will follow at Cheltenham Veterans Cemetery, 11301 Crain Highway, Cheltenham, MD 20623. In lieu of flowers, donations may be made to Life Community Church of God, P.O. Box 670, California, MD 20619. Arrangements by the Brinsfield Funeral Home, P.A., Leonardtown, MD 20650.