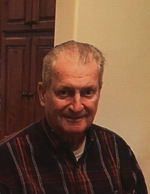 Cecil Matthew Norris, 75, of Laurel Grove, MD passed away on April 16, 2018 in Leonardtown, MD. Born on February 19, 1943 in Laurel Grove, MD is was the son of the late Jessie Mae Wood Norris and James Norman Norris. Cecil was the loving husband of Charlene Huseman Norris whom he married on February 9, 1973 in Holy Angels Catholic Church Avenue, MD. Cecil is survived by his sisters; Norma Buckler of Charlotte Hall, MD and Faye Burroughs of Chaptico, MD. He is preceded in death by his brothers; Joseph Dale Norris and John W. "Tootie" Norris.

Cecil was a lifelong St. Mary's County, MD resident and attended Margaret Brent High School. He was employed as a Foreman/Administration for the Maryland State Highway Administration for 32 years retiring in October 1995. Cecil served in the Army National Guard. He was a member of Della Brooke Hunt Club and a band member of Louis Knott & River Rascals. He enjoyed playing music, fishing, hunting, scuba diving, flying, skeet shooting and gathering with family.

The family will receive friends on Monday, April 23, 2018 from 9:00-10:15 AM in the Mattingley-Gardiner Funeral Home, Leonardtown, MD. A Mass of Christian Burial will be celebrated on Monday, April 23, 2018 at 11:00 AM in St. Joseph's Catholic Church Morganza, MD with Father Drew Royals officiating. Interment will follow in Mt. Zion United Methodist Cemetery, Laurel Grove, MD. Pallbearers will be: Robbie Newton, Al Huseman, Dickie Huseman, Mike Huseman, Franny Huseman and Jeff Huseman. Contributions may be made to Mechanicsville Volunteer Rescue Squad P.O. Box 15 Mechanicsville, MD 20659.