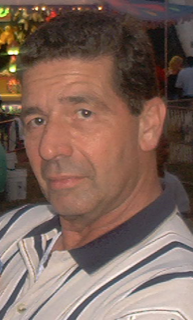 Albert "Al" Richard Gulizia, 74, passed away on April 18th, 2018 in Prince Frederick, MD. He was born on July 5th, 1943 in Brooklyn, NY to Alphonso and Frances Gulizia. Al graduated with honors from Alexander Hamilton Vocational High School in Brooklyn, NY in 1961. After high school, he moved to Staten Island, NY with his family and met his future wife, Judy in 1963. He graduated from Staten Island Community College in Staten Island, NY in 1969 with his Associates Degree in Applied Science and then later graduated from Thomas A. Edison State College in Trenton, New Jersey with his Bachelor of Science degree in 1982.

Al's career began in 1961 at the Brooklyn Navy Yard in Brooklyn, NY as an Electronics Technician and ended in Fort Monmouth NJ as a Logistics Specialist in 2000. During his 39-year long career, working for the Federal Government, he received many awards and accolades including the superior civilian service medal. Al served in the Army National Guard from November 1964 through July 1970 where he worked as an automotive maintenance helper. He also worked part time for the New Jersey Special Police Department for 20 years, achieving the rank of Sargent.

Al and Judy (Frey) married in 1967 in Staten Island, NY. The couple moved to Brick, New Jersey shortly after their marriage and raised two children. He enjoyed fishing for fluke or flounder, making wood crafts and spending time with his family. Al and Judy moved to St. Leonard, MD when he retired to be closer to their children and grandchildren. They were happily married for over 50 years until Judy's death in January 2018.

Al was preceded in death by his wife, Judy, his parents, Alphonso and Frances and his sister, Barbara Brower. Al is survived by his daughter, Christine (John) Roberts of Huntingtown, MD, his son, Brian (Lea) Gulizia of Manassas, VA, four grandchildren, Nicholas, Michael, Sara and Emily, brother Charles (Regina) Gulizia of Forked River, NJ and brother-in law Neal (Connie) Frey of Huntington Station, NY. Al is also survived by his niece Heather and nephew Charlie.

A memorial service will be held at Rausch Funeral Home at 4405 Brooms Island Road, Port Republic, MD 20676 on Friday, April 20th, 2018. Visitation will be from 4pm to 6pm with a service to follow. Interment will be private. In lieu of flowers the family requests memorial donations be made to the Asbury Foundation, 11100 Asbury Circle, Solomons, MD 20688.