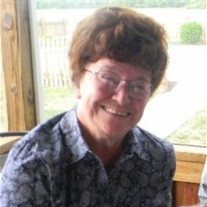 Barbara Betty Knode 82, passed away peacefully surrounded by family on April 14, 2018 at Sage Point Gardens in La Plata MD. Formerly of Fort Washington, Maryland. Born on May 1, 1935 in Shreveport, Louisiana, she was the daughter of the late Elizabeth Ann Vrabel Belechak and Colonel John Belechak. Barbara married her High School sweetheart Daniel in 1954, who preceded her in death and was the CEO of Knode Enterprises and mother to her 7 boys. She was a proud supporter of her sons' many school functions and was very active with St. Columba Catholic Church in Fort Washington.

In addition to her parents and husband, Barbara was preceded in death by her sister, Elizabeth Hendon and her granddaughter Erika Knode. Barbara is survived by her sister Cynthia Belechak, her 7 beloved sons and spouses, Scott, Ken, Doug and Liz, Glen and Carla, Jeff and Kelly, Brian and Jennifer, Brett and Allison, 17 grandchildren and 4 great grandchildren.

Friends received on Thursday, April 19, 2018 from 5-8PM at Raymond Funeral Service, P.A., 5635 Washington Avenue, La Plata, Maryland 20646. Funeral Mass will be held on Friday, April 20, 2018 at 10AM at Sacred Heart Catholic Church, 201 St. Mary's Avenue, La Plata, MD 20646. Interment at Ft. Lincoln Cemetery in Brentwood, Maryland on Friday, April 20, 2018 at 12:30 PM In lieu of flowers, donations may be made to her granddaughter's memorial foundation, Erika Knode Epilepsy Awareness Foundation, P.O. Box 16054, San Antonio, Texas 78280.