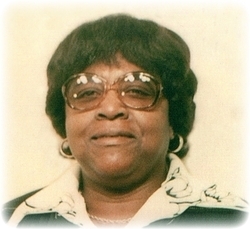 Cecelia Elizabeth "Betty" Thomas, 87, of Mechanicsville, MD, passed away on Saturday, April 14, 2018 at the Hospice House of St. Mary's, surrounded by her loving family. She was born December 13, 1930 in Hollywood, MD to the late James Shorts and Mary Stevens.

Betty was a lifelong resident of Southern Maryland and enjoyed spending time with her family, friends and neighbors. She enjoyed watching television, In her later years anything that had Steve Harvey in it . And The Young and the Restless. She also liked taking bus trips with friends, including trips to Atlantic City. Betty was a devote Catholic and always helped when she could with the annual church dinners and yard sales. She loved to help family and friends, or anyone in need.

Betty leaves her children to cherish her memory: Evaughn Lennon of Mechanicsville, MD, George Raymond Thomas, Jr. (Barbara) of Mechanicsville, MD, James Irvine Thomas (Clevetta) of Louisville, KY, Larry Matthew Thomas (Patricia) of Lexington Park, MD, Joseph Michael Thomas (Karen) of Hollywood, MD, and Corbretta Thomas of Hollywood, MD; her step-children; Sheldon Wills and Maurice Wills, both of Columbia, MD; 24 grandchildren, many great grandchildren and 2 great-great grandchildren. She also leaves Aunt Nettie Stevens 98 of Leonardtown, MD. In addition to her parents, she is also preceded in death by her husbands, George Raymond Thomas Sr. (1979) and Francis Ignatius Thomas (1996); and her daughter, Ann Vanessa Thomas.

Family will receive friends on Friday, April 20, 2018 from 9:00 - 10:00 a.m., with a Mass of Christian Burial celebrated by Reverend Drew Royals at 10:00 a.m., at St. Joseph's Catholic Church, 29119 Point Lookout Road, Morganza, MD 20660. Interment will follow at Charles Memorial Gardens, 26325 Point Lookout Road, Leonardtown, MD 20650. Serving as pallbearers will be John Stevens, Duane Cooper, Jonathan Thomas, Eric Thomas, Corron Thomas and Carlos Thomas. Honorary pallbearers will be Milton Dove , Terrence Thomas, Larry Thomas Jr, Dontae Thomas, Kerry Stevens, Tyonte Thomas, Brandon Thomas and Bradley Thomas. In lieu of flowers, memorial donations may be made to Hospice House of St. Mary's, P.O. Box 625, Leonardtown, MD 20650. Arrangements by the Brinsfield Funeral Home, P.A., Leonardtown, MD.