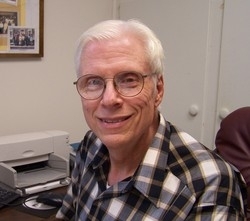 Mark Olen Asp, 75 of Leonardtown, MD, formerly of Bradenton, FL, passed away on April 14, 2018 at his home surrounded by his loving family. Mark was born on October 12, 1942 in Helena, MT to the late Martin Oliver Asp and Vera Agnes Ruffcorn. Mark was a graduate of Trinity Evangelical Divinity School. On June 30, 1979 he married Caroline Hines Asp in Colombia, South America; together they celebrated 38 wonderful years of marriage.

Mark humbly served God as a Missionary and Pastor for over 35 years in various countries including Colombia and Mexico. He served as a candidate director for WEC International after returning from Mexico. Mark loved to write and had two books published, (Hacia el Mundo Entero (To the Whole World) and Christ and Today's Crisis. As a young man Mark developed a love for astronomy, which led him to develop and build his own telescope; he revisited this love in his later years as well and built his second telescope. He also enjoyed listening to classical music and drawing house plans.

He is survived by his wife, Caroline Asp; children, Becky and Tom Houle, of Scandia, MN and Stuart and Mandy Asp, of Great Mills, MD; sister, Carmen Rinehart, of Olathe, KS; and five grandchildren. He was preceded in death by his parents, Martin Oliver Asp and Vera Agnes Ruffcorn Asp.

Family will receive friends for Mark's Life Celebration on Monday, April 23, 2018 from 5:00 to 8:00 p.m. with a Prayer Service at 7:00 p.m., at Brinsfield Funeral Home, 22955 Hollywood Road, Leonardtown, MD 20650. A Funeral Service will be held on Tuesday, April 24, 2018 at 11:00 a.m., at Cornerstone Presbyterian Church, 23101 Town Creek Drive, Lexington Park, MD 20653. Interment will follow at Charles Memorial Gardens, 26325 Point Lookout Road, Leonardtown, MD 20650. Memorial contributions may be made to WEC International, P.O. Box 1707, Fort Washington, PA 19034. They will specifically be for WEC Mexico sending base. Arrangements by the Brinsfield Funeral Home, P.A., Leonardtown, MD.