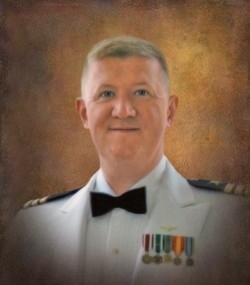 Robert 'Rob' Scott Murphy, age 53, of California MD, passed away unexpectedly at St. Mary's Hospital in Leonardtown, MD, on Friday, April 6th, 2018 due to a medical emergency. Born in Lansdale, PA, to Grace M. Hill (Houpt) of Kempton, PA, and Robert W. Murphy of Albuquerque, NM.

Rob displayed an early love for theater and a talent for humor that would serve him well through a career with the U.S. Navy. He served in active duty as an H-46 pilot and after 20+ years of dedicated service, as a civilian employee. Rob graduated from Perkiomen Valley High School, Collegeville, PA in 1982. After graduating from Villanova University, PA, in 1986 with a degree in Computer Science, Rob was commissioned as an Ensign in the U.S. Navy and later attended the Naval Postgraduate School in Monterey, CA, earning a Master of Science degree in Operations Research. He served numerous deployments overseas and eventually transitioned to the program management field, supporting rotary wing programs (both manned and unmanned) at the Naval Air Systems Command. A gifted orator, Rob was well known for his quick recall and storytelling abilities.

He is survived by his wife Stephanie (St. Clair) and their two children Caitlin and Haley; his first wife Diane Shaw Freeman, and their daughter Erin of Tuscaloosa AL; his parents; his father-in-law John Hill; his brother Andy; his sister Julie; and numerous nieces and nephews.

A Memorial Service will be conducted at Brinsfield Funeral Home in Leonardtown, MD, on Friday, April 13, 2018 from 6-8pm with a prayer service at 7 pm. Interment will be private. In lieu of flowers, donations to his children's college funds will be gratefully accepted at NFCU Acct# 3096119114, P.O. Box 3100, Merrifield, VA 22119-3100.