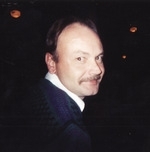 Thomas W. "Joe" Hancock, a lifetime resident of St. Mary's County, died peacefully at his home on April 8, 2018 with his loving family by his side. Born on April 7, 1959, he was the son of the late Norman and Mary Irva Hancock of Hollywood, MD. Joe was the loving and devoted husband to Pamela Miedzinski Hancock whom he married in St. John's Church on May 1, 1980.

He was a loving father and is survived by his children Tiffany, Joseph and James and two grandchildren, Lexi and Dakota. He is also survived by his siblings Patty Wood and Jimmy, Tweet Pilkerton and Winks, Alvin Hancock and Sandy, Carroll (Lenny) Hancock, Calvin Hancock and Annette, Sheila Smith and Darren and sister-in-law, Glenda Hancock and many nieces, nephews and god-children. In addition to his parents, Joe was preceded in death by his brother Norman Hancock Jr. and sisters Alice Gray and Darlene Snellings, as well as his in-laws, Jimmy and Nancy Miedzinski.

Joe had a special place in his heart for his children and his granddaughter, who knew him as Pop Pop. Lexi and Joe were very close and both of them cherished the time they spent together. All of his children and his granddaughter are so thankful to him for leaving so many wonderful memories. Dakota, Pop loves you wanted so much to get to know you and to make wonderful memories with you. He attended Chopticon High School and was a carpenter by trade. He spent many years working with Harry Miller as a Carpenter and later joined the staff of William M. Davis for 13 years, until he was forced to stop working due to his illness.

Joe was very caring and always there to help friends with carpentry projects or whatever else they needed. He was a hard worker and enjoyed spending time with family and friends. In his spare time he liked to fish and grow award winning tomatoes in his garden, but NASCAR was his passion. He was a dedicated Rusty Wallace fan and looked forward to going to the race or setting aside time every Sunday to watch the race on TV. We will all miss him and love him always.

The family will receive friends on Wednesday, April 11, 2018 from 5:00-8:00 PM with prayers recited at 7:00 PM in the Mattingley-Gardiner Funeral Home Leonardtown, MD. A Mass of Christian Burial will be celebrated on Thursday, April 12, 2018 at 10:00 AM in St. John's Catholic Church Hollywood, MD with Father Ray Schmidt officiating. Interment will follow in the Church Cemetery. Pallbearers will be: Kenny Johnson, Curtis Gantt, Tony Norris, Norman(Buddy) Buckler, Steve Gragan and Charlie Harris. Honorary Pallbearers will be: Sam Smith and Joe Stone.

Contributions may be made to the Hollywood Volunteer Fire Department P.O Box 7 Hollywood, MD 20636 and/or the Hollywood Volunteer Rescue Squad P.O. Box 79 Hollywood, MD 20636.