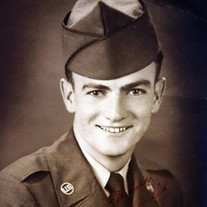 John W. Moore, Jr., of Waldorf, MD, passed on April 3, 2018 at the age of 84. Born in Griffin, GA the son of Myrtice L. (Varnam) Moore and John W. Moore. John grew up and attended high school in Griffin, Georgia. After high school, he immediately enlisted in the U.S. Air Force in 1950. Throughout the next 22 years, John was deployed to Germany, Japan, Korea, and 2 tours in Vietnam. He was honorably discharged in May, 1972.

John met Betty, the love of his life, in 1952. She was a telephone operator in Washington, DC and they met while he was stationed at Gravelly Point. They married in January, 1954 and traveled all over to different bases, ultimately retiring in Myrtle Beach, SC. In January, 2018, they celebrated 64 years of marriage.

After retirement, John and Betty settled in Maryland where he started his new career as an accountant, joining his brother-in-law at EK Williams accounting services. John was an avid reader and enjoyed doing crossword and Sudoku puzzles. John could best be described as a strong, intelligent man who had a love for his country and a passion for the game of golf. His one and only "hole in one" came on his 80th birthday.

His accomplishments in life demonstrated an enduring practice of taking responsibility, working hard and remaining resilient through whatever came his way. He valued his family and friends, especially his golfing buddies. He will be greatly missed.

Beloved husband of Betty Moore; Devoted father of Donny Moore (Nancy) of West Virginia, John W. Moore III "Jay" (Faye) of South Carolina, Robert Moore "Bob" of Waldorf, MD and Kenny Moore (Tina) of Nanjemoy, MD; Dear brother of the late Barbara Willeby and Nelda Carroll. Also survived by 12 Grandchidren, 22 Great Grandchildren and 2 Great-Great Grandchildren.

In lieu of flowers, contributions in memory of John may be directed to his favorite charity, The Salvation Army, 7 Post Office Road, Suite 7D, Waldorf, MD 20601. Arrangements by Lee Funeral Home.