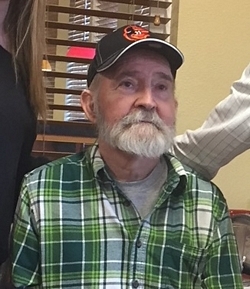 Bruce Franklin Jones Jr., 69, of Prince Frederick, Maryland passed away at his home in Prince Frederick, MD. He was born in the old Calvert Memorial Hospital to the late B. Franklin Sr. and Desdemona Blanche "Tucker" Jones. and raised on Cage Farm. Bruce was an accomplished carpenter. The family was a member of a private camp ground in Virginia where he enjoyed shooting pool with close friends and family and taking rides on his golf cart to get Ice Cream. In later years, Bruce enjoyed reading, doing puzzles and spending time with his children and grandchildren.

He is survived by his wife, June Diane Jones, father of James S. Bowie, Ronald L. Bowie and Melody L. Jones "Edwards". Grandfather of Rachel Lacey, Ronald L. Bowie, Jr., Shawn T. Bowie, Angel Edwards "Jones" and Julia Bowie, He is also survived by 5 great grandchildren and his siblings, Charles Jones, Raymond Jones, Mary "Sissy" Johnston, and Bertha "Bert" Dixon.

The family will receive friends on Sunday April 8, 2018 at the Rausch Funeral Home, 4405 Broomes Island Road, Port Republic, MD from 2-6 PM where funeral service will b held on Monday April 9, 2018 at 11 AM. Interment will follow in Asbury Cemetery. Memorial contributions may be made to Calvert Hospice, P.O. Box 838 Prince Frederick, MD 20678. Arrangements by Rausch Funeral Home.