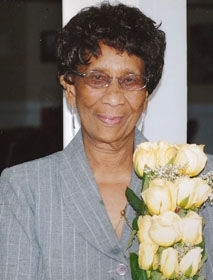 Emma Virginia (Milburn) Hall entered eternal life on March 28, 2018, at Medstar Washington Hospital Center, Washington, DC. She was born on May 26, 1927 in Park Hall, MD, to the late Solomon Milburn Sr. and Cecelia (Courtney) Milburn.

Emma leaves behind to cherish her memories; her loving husband, Ernest Sr.; siblings: Barbara Anne Jenkins; Solomon Milburn Jr. (Belinda); children: Donnie LaRue (Joan), Arnold Milburn Sr. (Sheila), Wanda Gough (Ralph Sr.), Glenda Barnes (Andre), Alma Camilla Ballard (Marcus); grandchildren: Robert Davenport, Phoebe Jones (Joel), Jowan LaRue, Dawn LaRue (Lemuel Sr.), Arnold Milburn Jr., Victor Milburn, Ralph Gough Jr. (Christine), Tawanda Gough, Carmita Cooke (Kam), Algerron Barnes (Mia), Aaron Brown (Ashley), Teka Brown (Dustin-Fiancée), Shaunta Carroll (Carl), Jamaica Christian; 20 great grandchildren; one great great grandchild; and other relatives and friends.

Family and friends will unite on Monday, April 9, from 9 a.m. until Mass of Christian Burial at 11 a.m. at St. Peter Claver Catholic Church, 16922 Saint Peter Claver Road, St. Inigoes, MD. Interment at St. James Catholic Church Cemetery, St. Mary's City, MD. Arrangements by Briscoe-Tonic Funeral Home.