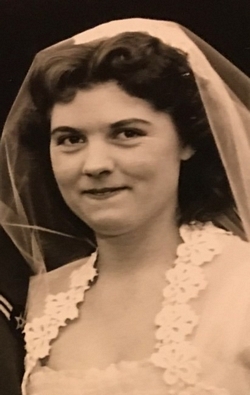 Nellie Knight passed away peacefully surrounded by her family the evening of April 1, 2018. Nellie was preceded in death by her husband Carlton Crosby Knight to whom she married in April of 1956. Nellie was born on March 2, 1934 in Croxley Green, England to the late Nellie (Edwards) Warwick and the late Hubert Warwick. She had an older brother – the late James Warwick. In her youth, she enjoyed feeding the ducks around Buckingham Palace, playing ping pong, dancing, ice skating and swimming. She loved the rain. She met her husband Carlton when she worked as a clerk at the railroad in Great Britain and the two married in April of 1956.

Through their marriage, they travelled to various military bases in the U.S. and England, finally settling in Waldorf, Maryland. Nellie got her US Citizenship in 1962, becoming a dual citizen. Together they raised 5 children: Jim (Sheri) Knight, Sandra (Jeff) Enlow, Neal Knight, Gerry (Kim) Knight and Gary (Tiffiny) Knight.

As a family, there were many summers spent camping at Solomon's Island with close friends. Nellie loved watching Wimbledon tennis, card nights with John and Gail Connell and John and Margaret Harding, the Green Bay Packers (thanks to Bart Starr), teaching her family to play London Rummy and spending time with her grandchildren. But the one thing that brought her the most joy was having all five of her kids together with her.

She was known as Nan and Nene to her 16 grandchildren, Kira Grantz and Daniel Knight, Scott, Christopher, Jaclyn and Samantha Enlow, Hannah and Clay Knight, Kristin Tinsman, Andrew and Rebecca Knight, Brittney Bowman, Adam, Zachary, Alyssa and Kayden Knight, as well as 6 great grandchildren.

Nellie will be missed by many close friends and family, and will remain in our hearts forever. Visitation will be held at Huntt Funeral Home on Thursday, April 5 from 11 am to 12 noon following which will be her memorial service. The family invites all to a reception immediately following as we remember and celebrate her life.