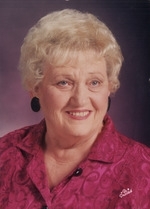 Agnes "Rosalie" Pilkerton of Mechanicsville, MD died on March 30, 2018 in St. Mary's Hospital, Leonardtown, MD surrounded by her family. Born in Laural Grove, MD on January 19, 1923, She was the daughter of Isaac Jody Quade and Sarah Frances Quade. Rosalie was a homemaker and loved raising and spending time with her children and Grand-children. She helped her husband run at the Oraville Shell Station for around 12 years where they spent time and made many friends. She was the wife of the late William Joseph Pilkerton "Bill" whom she married in Leonardtown, MD on March 23, 1940.

She was the devoted mother of Wayne Pilkerton (Susie), Darlene Lewis Adams (Mel), Frances "Molly" Greenwell (Gilbert), Maxine Wilkerson (Charles), Dale "Joe Joe" Pilkerton and Lorretta Olmstead (Jerry) and Son-In-Law Bobby Flannery. She was preceded in death by her children, William "Morris" Pilkerton, Laura Mae Flannery, Nancy Lee Pilkerton, and Baby boy Pilkerton. She was also preceded in death by her brothers Elmer Quade, Howard Quade, and sister Alene Caywood. She is survived by her 25 loving Grand-children and numerous Great-grandchildren and Great-great grandchildren.

The family will receive friends on Wednesday, April 4, 2018 from 9:00 Am-10:00 AM in the Mattingley-Gardiner Funeral Home, Leonardtown, MD. Where a Funeral Service will be held at 10:00 AM in the Funeral Home Chapel with Deacon Joe Lloyd officiating. Interment will follow in Charles Memorial Gardens Leonardtown, MD. Pallbearers for Ms. Pilkerton are Tony Greenwell, Steven Pilkerton, Cody Greenwell, Robert Pilkerton, Troy Buckler, Robert Cooper, and John Cooper. Celebration of Life will be followed at Sandgates Inn, Mechanicsville, MD. If anyone would like to drop off a dish, do so on Wednesday morning after 10:00 AM. Contributions may be made to St. Jude Research Hospital 501 St. Jude Place Memphis, TN 38105.