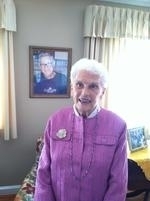 Regina Edith McCall "Gene", 91, of Hollywood, MD formerly from Timonium, MD passed away on March 28, 2018 in Leonardtown, MD. Born on September 10, 1926 in Baltimore, MD, she was the daughter of the late Edith Anna Bryan Brown and Walter Albert Brown. Gene was the loving wife of the late Edward Eugene McCall, whom she married on May 12, 1951 and who preceded her in death on November 2, 2011.

Gene is survived by her children; Tom McCall (Beverly) of Smyrna, TN, Mary McConnell (Craig) of Naples, FL, Margaret McCall of Leonardtown, MD, Edward E. McCall, Jr. of Bozman, MD, Betsy Davis (Eric) of Raleigh, NC, Joan Scarff (Cliff) of Lutherville, MD, 11 grandchildren and 4 great grandchildren. As well as, her sibling G. Larkin Brown. She was preceded in death by her brothers Walter A. Brown, Jr, and Francis X. Brown.

She graduated from Seton High School in 1944 and University of McCall Madness with the Best Mom Ever Degree in 2018. She moved from Timonium, MD to St. Mary's County, MD on March 17, 1984. Gene was a chief, cook, and Bottle Washer for Two Choices, Take It or Leave It, for 66 years, retiring on March 28, 2018. Gene was a community Volunteer extraordinaire for; church, literacy programs, mentor, neighborhood chef, seamstress/costume maker, scouts, room mom, care giver and friend.

The family will receive friends on Friday, April 6, 2018 from 10:00 AM-11:00 AM in St. John's Catholic Church Hollywood, MD. Where a Mass of Christian Burial will be celebrated at 11:00 AM with Father Ray Schmidt officiating. Interment will follow in the church cemetery. Pallbearers will be; Edward E. McCall, Jr, Edward E. McCall, III, Michael McCall, Colin McConnell, Stephen Funk, and Tyler Scarff. Honorary Pallbearer will be Tom McCall. Arrangements by Mattingley-Gardiner Funeral Home.