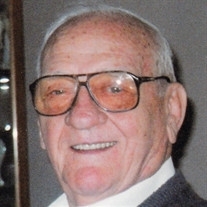 James Ignatius Hill, 97, of Waldorf, MD departed from this life on Monday, March 26, 2018. He was born February 22, 1921 in Mechanicsville, MD, to the late William Dellie and Mary Quade Hill. In addition to his parents, he was preceded in death by his wife, Marian Elizabeth Hill, the mother of his four children, his two daughters in law, Cecilia Hill and Cathy Hill and his twelve brothers and sisters.

Jim retired from Giant Food after 28 years of employment. He served with the D.C. Police Reserve for several years. He was a long time member of the Elks, Moose and Southwest Clubs. He enjoyed dancing and listening to country music and playing cards with both family and friends. His wit and wonderful dry sense of humor will be greatly missed by his family and friends. In his earlier years, he enjoyed getting together with his brothers and other family members singing and playing his guitar.

Jim is survived by his children, Sandy Hope (Dennis) of Waynesboro, VA, Michael Hill of La Plata, MD, Gary Hill of Partlow, VA, and Barbara Schena (Bobby) of White Plains, MD, grandchildren, Arlene Thibodeaux (David), Jennifer Stephan (Brian), Wesley, Gregory and Timothy Hill, Jason and Jared Hill and Steven Schena (Krista), great grandchildren, Patrick Keith (Laura), Zachary and Matthew Stephan, Luka Hill, Gary Hill, Brayden Schena and Brynleigh Hill. He is also survived by his loving companion and devoted friend, Velma Colfack. Arrangements by Lee Funeral Home.