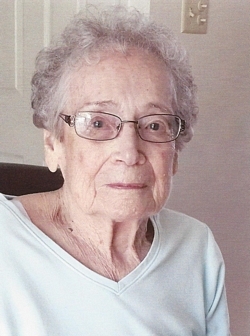 Evelyn LeJeune Gott, 95, of Prince Frederick, MD passed away on Wednesday, March 21, 2018. She was born to Joseph and Anita Haight on December 3, 1922. She grew up in Washington, D.C. and Dares Beach, MD. She married James B. Gott, Sr. of Prince Frederick in 1938. Evelyn was a homemaker, secretary at the Calvert County Extension Office, receptionist at Calvert Memorial Hospital, and later church secretary for Trinity United Methodist Church. She loved to sew and made many dresses for family including three weddings dresses. Upon retirement she enjoyed trips to Florida, visiting with family, and sharing her knowledge of Calvert County. In later years, she was an avid reader, loved to work puzzles, and keep in touch with family and friends.

She is preceded in death by her parents, husband, son, Warren Douglas Gott, and grandson, W. David Gott. She is survived by son, James B. Gott, Jr.; daughter-in-law, Linda H. Gott; grandson Gregg Gott and his wife Patti; granddaughter Carol LeBlanc and her husband Ted; granddaughter Jackie Herath and her husband Joe; and granddaughter Donna Rawlings and her husband Butch. She was additionally blessed with 4 great grandchildren, Mary Catherine Good, Amanda Pellettiere, Shelby Hyatt, Jennifer Mister; and 3 great, great grandchildren Payton Hyatt, Brantley Pellettiere and Paizley Hyatt

Family and friends will be received at Trinity United Methodist Church in Prince Frederick on Wednesday, March 28 from 3-6 p.m. A funeral service will be held on Thursday, March 29 at 11 a.m. at the same location. Interment following at Wesley Cemetery in Prince Frederick. Memorial contributions may be made to Warren David Gott Memorial Scholarship Fund c/o Prince Frederick Volunteer Fire Department, Co.2, P.O. Box 976, Prince Frederick, MD 20678.