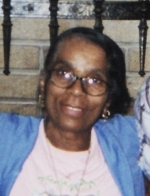 Grace Madgaline Miles, 84, of Hollywood, MD passed away on March 19, 2018 in Leonardtown, MD. Born on May 17, 1933 in Chaptico, MD she was the daughter of the late Lucy Neal Nelson and Harrison Nelson. Grace was the loving wife of Frederick Miles who preceded her in death in 1975 and whom she married on April 17, 1954 in Chaptico, MD.

Grace is survived by her daughter Phyllis Ward of Pensacola, FL. Grandchildren: Donald Gough, Kareem Gough and Ray Swanson, Sr. Great-Grandchildren: Abria Gough, Xavier Gough, Ray Swanson, Jr. and Ray Swanson, III. Sibling: Richard Nelson of Washington, DC. She is preceded in death by her grandson Dwayne Gough. Siblings: George Nelson, Laura Lawson, Mary Milburn, Lucy Brown and Walter Nelson.

Grace was a lifelong St. Mary's County resident and attended St. Joseph High School. She was employed with the Federal Government as a Commissary Clerk in the Meat Department for 18 years, retiring on June 30, 1993.

Mother,
If I could have only one more day, only one more, I would pick up the phone and tell you, I love you. I would thank you for loving me unconditionally, and I would thank you for helping me to be me. I pray heaven is everything you dream it to be. I pray you are safe and free of pain and have met up with loved ones and pray you have heard every word I have said. To my darling mom I will love you forever, so be safe until we meet again.
Your daughter Phyllis

If roses grow in heaven, Lord please pick a bunch for me. Place them in my Mother's arms and tell her they are from us.
Kareem, Donald & Ray Sr. with Love.

God saw you getting tired
And a cure was not to be
So he put His arms around you
And whispered "Come to me."

With tearful eyes we watched you
As you slowly slipped away
And though we loved you dearly
We couldn't make you stay.

Your golden heart stopped beating
Your tired hands put to rest
God broke our hearts to prove to us
He only takes the best.
Loving brother,
Richard Nelson

The family will receive friends on Tuesday, March 27, 2018 from 10:00-11:00 AM in St. John's Catholic Church Hollywood, MD. A Mass of Christian Burial will follow at 11:00 AM with Father Ray Schmidt officiating. Interment will follow in Charles Memorial Gardens Leonardtown, MD. Special Thanks to: Mary Bannister, Michael Gibson, St. Mary's Nursing Center, Clavin Thomas, Agnes Bannister and Shirley Hebb.