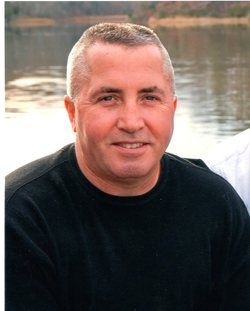 Frank A. Brown of Great Mills, MD, passed away from complications due to cancer on Sunday, March 18, 2018 at Georgetown University Hospital in Washington, DC. Frank was born March 2, 1963 in Utica, NY, to the late Robert Jones Brown and Arlene Maxwell Brown.

Frank married Barbara Dicus, October 15, 1988 and the couple started their life together in Hollywood Maryland. Frank started his navy career in 1981. Frank and Barbara moved to various locations throughout his 20 year Navy career and eventually settled back in his wife's hometown of St Mary's. He retired in 2001. Frank never settled for the love of his country and he continued to sacrifice by volunteering his service to companies supporting the war effort in Afghanistan. Frank loved all things Golf with friends and family, although providing for his family was the center of his life.

He obtained his greatest joy from his wife of almost 30 years, his children and his grandson. He worked for BAE systems and was an active parishioner at St John's Catholic Church in Hollywood. He was a 35 year member of BPOE Elks Club #2092 and he volunteered for many years at St Mary's Special Olympics.

In addition to his parents he was predeceased in death by his sister JoEllyn and his brother Joseph. In addition to his wife, Frank is survived by his three children; Matthew (Stephanie) of Dayton, OH, Andrea Brown of Great Mills, MD, Megan Brown of Boston, MA and grandson Noah of Dayton OH. He is also survived by 8 siblings. Rob (CT), Marc (FL), Chris (NY), Janice (FL), Steve (CA), Pat (NY), Tracey (NY), Donnie (NY). Frank is also survived by his best friend Daniel Leddy (Christy, Matthew, Erin) of MD and Butch Smith (Dawn) of FL.

The Family will receive relatives and friends on Friday, March 23, 2018 at Brinsfield Funeral Home, 22955 Hollywood Road, Leonardtown, MD 20650, from 5:00-8:00 p.m. with prayers at 7:00 p.m. A mass of Christian Burial will be held Saturday, March 24, 2018 at 10:00 a.m. at St. John's Catholic Church in Hollywood, MD. Interment will be private. In lieu of flowers, the family requests memorial contributions be made to BPOE Elks Club #2092, St. Mary's County Elks Lodge #2092, P.O. Box 277, Lexington Park, MD 20653. Arrangements by the Brinsfield Funeral Home, P.A.