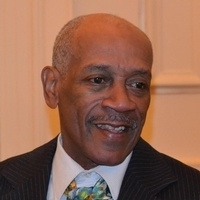 On Saturday, March 17, 2018, Bernard Sebastian Boyer quietly transitioned into eternity. He fought a courageous battle against cancer, but ultimately succumbed. Bernard was born in Bryans Road, Maryland on February 24, 1950, the son of the late Phelicia Clark Boyer and Ralph Boyer. He was the eldest of five children.

Bernie, a.k.a. "Uncle Bernard," a.k.a. "Barnyard Electric," as he was affectionately known, received his primary education in the Charles County Public Schools system and attended high school at the St. Emma Military Academy in Powhatan, Virginia. As a young boy, Bernard enjoyed playing Little League Baseball for the Tigers and was a Boy Scout in Indian Head Troop No. 2. He was also very mischievous, once blowing up an empty dog house. Bernard regularly attended Sunday School and Vacation Bible School at Metropolitan United Methodist Church in Pomonkey, Maryland, and became a full member in 1964.

After graduating from St. Emma in 1968, Bernard relocated to Detroit, Michigan, where he initially lived with his beloved aunt Jeannette Clark Thurmond and her husband Lennie. He began working as a welder for the Ford Motor Company and had a lucrative career in the auto industry for nearly 15 years. While in Detroit, he married and had a son, Julian.

Bernard returned home to live in Bryans Road in the mid-1980s. With his early years of experience working as an electrician apprentice for his grandfather, James Clark, Sr., he revived his trade by working for his uncle James Clark, Jr., at Clark Enterprises Electrical Service. Bernard went on to work as an electrician for the Local 26 IBEW-NECA Electrical Workers Union until he retired in February 2016. Keeping with family tradition, he continued working as a free-lance electrician, assisting many in the community with their electrical needs.

Bernard was an avid music lover, and for a while, a professional DJ. He loved being close to the water, going to the beach, jet-ski racing and most of all, fishing. He will be remembered best for his animated storytelling. Once he started telling a story, he had everyone in the room captivated and laughing.

Bernard was preceded in death by his parents. He leaves to cherish his memories, siblings, Nyanda Dutch-Malik (neé Beverly Boyer) and husband Tsaka Dutch-Malik, Gregory Boyer and wife Dana Boyer, Clark Boyer, Lucretia Boyer and husband William Evans; son Julian Boyer Glass; nephews, Johnny Rossettos, Jr. and Adrian Boyer; nieces, Amanda Boyer and Aja Boyer; aunts, Elvira Langford, Winifred Sechrest, Willa Mae Parker, Edna Clark and Sara Rembert; uncle Everett Parker; and a host of cousins and friends.

Visitation with family, 10:00 a.m. until time of Memorial Service, 11:00 a.m., Monday, March 26, 2018 at Metropolitan United Methodist Church, 3385 Metropolitan Church Road, Indian Head, MD 20640. Arrangements by Thornton Funeral home.