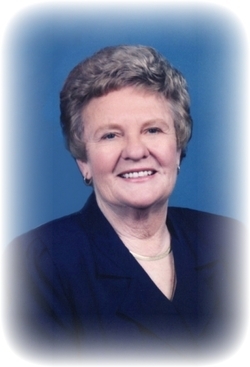 Anne McNey Drury, 84, of Leonardtown, MD died on March 18, 2018 at her home with her loving family by her side. She was born September 30, 1933 in Leonardtown, MD to the late Joseph LeRoy McNey and Mary Gladys Johnson. She had many happy memories growing up at the bottom of Leonardtown Hill (Frogtown) next to her grandparents.

In September 1954, she married her beloved husband, John R. "Johnny" Drury, Jr. She was predeceased by Johnny in March 2001. Together they raised five children. They worked diligently to instill their shared values of hard work, proper moral choices, and respect for human dignity, personal responsibility, and good manners.

In 1968 she co-founded The St. Mary's Riding Club (continued as a lifetime member) and was a long time member of the Delabrooke Hunt Club. She had a passion for horses. Anne loved to host and entertain the family gatherings. She looked forward to Sunday dinner "pizza night" with her beloved family. She had a special love for her children, grandchildren and great grandchildren. If she wasn't riding or grooming horses she loved to needlepoint and read.

Anne is survived by her 5 children, Deborah D. "Debbie" Saunders (Vernon) of Leonardtown, MD, John R. "Robbie" Drury, III (Linda) of Leonardtown, MD, M. Amy Drury of Lusby, MD, Joseph M. "Joe" Drury (Mary Beth) of Leonardtown, MD, and Kathleen M. "Kay" Porter of Leonardtown, MD, her grandchildren John K. "Jay" Parlett, III, Kristina L. Drury, Ryan M. Drury, Griffin M. Drury, Alden R. Drury, Jovi Anne Drury, John W. Porter, Anna M. Porter and Joshua E. Porter and her great grandchildren Camden A. Parlett, Kylie A. Parlett, John K. Parlett, IV, Hadley E. Drury and many extended family and friends. In addition to her parents, she is also preceded in death by her two sisters Jean McNey Burris and Elizabeth Reese "Betty" Taylor.

The Family will receive relatives and friends on Thursday, March 22, 2018 at Brinsfield Funeral Home Chapel from 9:30-11:00 a.m. with a service at 11:00 a.m. Interment will follow at Our Lady's Catholic Church Cemetery in Medley's Neck. Serving as pallbearers will be Louis F. "Freddie" Burris, Danial M. "Dan" Burris, David M. Guyther, Jay Parlett, Ryan Drury and John MacDonald. In lieu of flowers, the family requests memorial contributions be made to Hospice of St. Mary's, P.O. Box 625, Leonardtown, MD 20650, ACTS, P.O. Box 54, Bushwood, MD 20618 or Leonardtown Volunteer Rescue Squad, P.O. Box 299, Leonardtown, MD 20650. Arrangements by the Brinsfield Funeral Home, P.A.