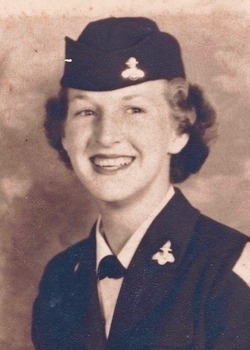 Mary Jo Ryan, age 88, passed away peacefully on March 16, 2018 at Hospice House of St. Mary's. She was a long time resident of St. Mary's City. Jo was born November 11, 1929 in Hot Springs, Arkansas to John and Maud (McElhanon) Crowley.

She graduated from Okolona, Arkansas High School, and served in the U.S. Navy from 1950 to 1951. While a student at the Naval Air Technical Training Center in Millington, TN, she met her future husband, Les, where he was her instructor. After marriage on December 28, 1950, she was to be his faithful wife for 67 years.

In the following 17 years as a Navy wife, she moved her growing family no less than 15 times to duty stations all over the United States. This included one epic trip in 1961 in which she took all five of her children, aged 1 to 9, on an ocean voyage to reunite the family with her husband, than deployed to NAS Sigonella, Sicily. After retirement from the Navy, she and her family returned to St. Mary's County, where they had been stationed twice before at NAS Patuxent River.

An outstanding athlete, she excelled at women's basketball and softball, was an avid water skier and an enthusiastic and accomplished bridge player. Her love of reading and crosswords made her a natural to be the writer of the Solomons Annex base housing newsletter "The Salamander." She worked for NAS Patuxent Comptroller's Office as a Budget and Accounts Analyst prior to her retirement in 1985.

In addition to her beloved husband, Lt. Lester Ryan, USN (Ret), Jo is also survived by her five children: Lester, Mikel, Laurie, Jody and Stuart, seven grandchildren, two great-grandchildren and her brother Jeremiah. She is predeceased by her parents; sister, Sarah and brother, Denver. Her love of family, her home, her animals, and especially her love of her husband, will always be remembered by her family and many friends.

The Ryan family would like to thank the staff of The Hospice House of St. Mary's for their wonderful help and care. Family will receive friends for Jo's Life Celebration on Tuesday, March 20, 2018 from 5:00 to 7:00 p.m. at Brinsfield Funeral Home, P.A., 22955 Hollywood Road, Leonardtown, MD 20650. Interment will be private. Memorial contributions may be made to Hospice House of St. Mary's, P.O. Box 625, Leonardtown, MD 20650 and the Well Pet Clinic. 21800 North Shangri La Drive, Unit 16, Lexington Park, MD 20653.

Condolences may be made at www.brinsfieldfuneral.com

Arrangements by the Brinsfield Funeral Home, P.A.