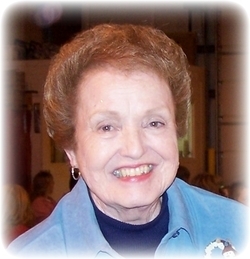 Barbara Wathen Russell, 88, of Leonardtown, MD, died on Wednesday, March 14, 2018, at St. Mary's Nursing Center in Leonardtown, MD, with her loving family at her side. She was born November 15, 1929 in Washington, D.C., to the late Henry V. Wathen and Anna Mae Yates Wathen.

Barbara was raised on the family farm on Wathen Rd. in Compton. In 1949, she married her beloved husband, Skip Russell. She was pre-deceased by Skip in 2007. Together, they raised three children. They worked diligently to instill their shared values of hard work, proper moral choices, respect for human dignity, personal responsibility, good manners, and the importance of faith.

After the kids were school age, she worked with her sister Janice in the Janice dress shop. She and Janice were "fashionistas" prior to the term's invention. She outfitted so many women for proms, engagements, weddings, change of command ceremonies, they are too numerous to count. Her family will always remember the hundreds of Christmas packages atop the dress racks as the holidays approached.

Barbara was a Leonardtown fixture. Her gregarious personality and big smile garnered her innumerable friends. People often stopped in the store simply to visit and relay humorous stories. She was an extraordinarily gifted teller of comic tales. She was a repository of great humor and sage advice.

Janice died in 1988. Barbara began the next phase of her life as a retiree. She enjoyed retirement. She and Skip travelled throughout the United States and Canada. She loved her grandchildren and participated extensively in their lives. Unfortunately, Skip was diagnosed with Parkinson's disease. Thanks to her efforts, he was able to live at home until his mobility totally failed. After Skip's death, she elected to live a quiet life.

Barbara's health began its long, slow descent in 2012. It was a time of small steps forward followed by big disappointments. Her faith never wavered as death approached. The day before her final health crisis, she was holding court in the Nursing Center's day room. She summoned one of the management staff to compliment her on her ensemble. The fashion critic to the very end. Her mortal body failed, but her indomitable spirit is eternal. Her larger than life persona and positive impact on many lives is not diminished by her death.

Barbara is survived by her children: Thomas M. Russell (Karen) of Leonardtown, MD, Richard M. Russell (Mary G.) of Leonardtown, MD, and Patricia Mae Russell Guy (Glenn) of Leonardtown, MD; her grandchildren: Meghan Kathleen Russell, Michael Scott Russell, Thomas Joseph Russell, Mark Allen Guy, and Angela Mae Guy Pickeral; her great grandchildren: Joseph Glenn Guy II, Presley Ava Pickeral, Evan Douglas Pickeral, Alicia McCure and Patrick Russell; and many extended family and friends.

Family will receive friends on Friday, March 23, 2018 from 9:30 to 11:00 a.m. at St. Aloysius Catholic Church, 22800 Washington Street, Leonardtown, MD 20650. A Mass of Christian Burial will be celebrated by Reverend David Beaubien at 11:00 a.m. Interment will be held at a later date at Maryland Veterans Cemetery in Cheltenham, MD.

Serving as pallbearers will be Mark Guy, Michael Russell, Mark Wood, and Thomas Russell. In lieu of flowers, the family requests memorial contributions be made to St. Mary's Nursing Center Foundation, 21585 Peabody Street, Leonardtown, MD 20650; Leonardtown Volunteer Rescue Squad, P.O. Box 299, Leonardtown, MD 20650; and Leonardtown Volunteer Fire Department, P.O. Box 50, Leonardtown, MD 20650. Arrangements by the Brinsfield Funeral Home, P.A.