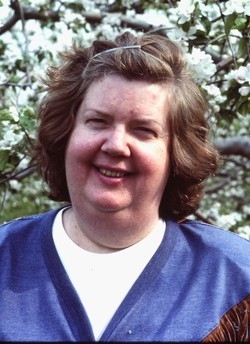 Lynea Enis Bowdish, 76, of Hollywood, MD, passed away Thursday, March 15, 2018 at MedStar St. Mary's Hospital with her loving husband by her side. She was born July 6, 1941 in Brooklyn, N.Y. to the late Ernest Newton Bowdish and Enis Marie Carlsten.

Lynea earned her Master's degree in English from Hofsta University, Hampstead, N.Y. She was later employed there as an adjunct professor for English. She was also employed by the Nassau County Commission of Aging in Mineola, NY where she worked her way up to be the Assistant to the Director.

On August 4, 1984 she married her beloved husband, David Roberts in Wantagh, N.Y. Shortly after their marriage the couple relocated to Southern Maryland, where they spent the next 34 wonderful years together. After moving to Southern Maryland she employed at the St. Clements Island Museum and the St. Mary's County Chamber of Commerce, tourism department. However, she found a true love in writing children's stories and went on to publish over 30 children's books and short stories.

She was also exceptionally proud of her Swedish heritage and enjoyed researching and discovering new facts. She and her husband were able to find a stained glass window in a church in New York that she only remembered as a child when she was 7 years old. She had no idea where it was. When they discovered it, they also discovered many of her ancestors buried in the church graveyard. She also loved her pet dogs, especially, Moose and Pebbles.

Lynea was a member of the Writers Guild, the St. Mary's County Genealogical Society, and Friends of St. Mary's County Library, where she served as the first president. She was the founder of the "Lunch Bunch" at the Hollywood United Methodist Church. She worked with the Literary Council of St. Mary's County teaching english to people seeking their citizenship.

In addition to her beloved husband, Lynea is also survived by her nephews; Kyle Henderson of Chicago, IL and Craig Henderson (Sandy) of Katy, TX; her niece; Elise Henderson Sheridan (James) of Wantagh, N.Y.; her sister, Edwina Bowdish Henderson (William) of Wantagh, N.Y.; and many extended family and friends. She is preceded in death by her parents.

Family will receive friends on Monday, March 19, 2018 10:00 to 11:00 a.m. at Hollywood United Methodist Church, 24422 Mervell Dean Road, Hollywood, MD 20636. A Funeral Service will be celebrated by Reverend Katie Paul and Reverend Greg Sylar at 11:00 a.m. Interment will follow at Joy Chapel Cemetery, Hollywood, MD. In lieu of flowers memorial donations may be made the Second Hope Rescue, P.O. Box 137, Leonardtown, MD 20650. Arrangements by the Brinsfield Funeral Home, P.A., Leonardtown, MD.