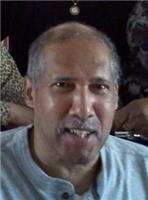 Oliver "Ollie" Francis Butler, 72 of Waldorf, MD, passed away on March 15, 2018 in Silver Spring, MD. Born on September 20, 1945, he was the son of the late Hyland "Jack" and the late Bernice Butler. He graduated from Eastern High School in 1962. Oliver served in the United States Navy from June 29, 1964 to June 28, 1966. He served in Vietnam, and was stationed at U.S. NAVPHIBASE, Little Creek, Norfolk, VA and served on the USS Boxer.

Oliver was the loving husband of Elena "Lisa" Butler for 48 years. Oliver is survived by their children: Tracy Miles, Leah Hertel, Brandon Butler and Eric Butler; nine grandchildren, Jordan, Kaiah, Tyeson, Mason, Lantz, Leila, David, Brooklynn and Ava; Sister in-law, Estelle Ellis, daughter in-law, Shari Butler, honorary daughter in-law Michell Cuellar and three sisters Lowlita Butler, Tawana Evans and Nadine Shaw. He was preceded in death by his brother, Vincent Butler and sister's Luvinia Turk and Bernadette Butler.

Oliver was a diehard Redskins fan and wore a different jersey for every game he watched. He enjoyed cooking on the grill, hosting Father's Day barbeques, eating crabs, crabbing at Point Lookout, spending time at amusement parks with the family, cutting grass (in denim jeans) and listening to Motown. Anyone that came to his home was offered a Budweiser but, if it was the kids' friends he asked when they planned on leaving, but they just laughed and came in anyways. He loved his Ford conversion vans and the neighborhood kids thought it was the coolest thing whenever they got a chance to ride in it.

Christmas was his favorite holiday. He was more excited than his children on Christmas morning and would wake them up by calling their names through his stereo microphone in his Santa Claus voice. He loved to make breakfast that no one wanted; and it became known as the forced breakfast. He would lie and say he made pancakes to get everyone to come to the table. He started the Word of the Week game to try to make his kids smarter, they had to create as many words from the word he gave them; and he said he would give them 10 cents a word.... but, never paid them. He enjoyed his B&B (Budweiser & Bacardi) nights with the fellas at his infamous bar. He was a handyman and loved to fix everything in the house, but this required professionals to come behind him and really fix them. But we can't knock him for trying.

Oliver, Ollie, Dad, Pop-Pop, Mr. Butler left a mark on many lives and will be truly missed. The family will receive friends for viewing from 10 am - 11 am and service from 11 am - 12 pm on Wednesday, March 21, at the Briscoe-Tonic Funeral Home, 2294 Old Washington Road, Waldorf, MD.