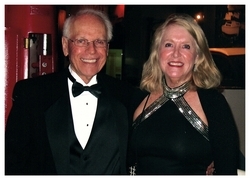 Elliot Donald Kocen, 82, of Solomons, MD, passed away suddenly on March 12, 2018 in Sunderland, MD. Born August 18, 1935 in Richmond, VA, he was the son of the late Louis Kocen and Mina Janet (Scher) Kocen. Elliot married his late wife, Joan McGill Kocen on February 13, 1979 in Alexandria, VA. He graduated from the University of Maryland in 1958 and from The American University in 1983.

Elliot was a Mortgage Broker for Jefferson Mortgage Group LLC, Washington, DC. He was a member of the Solomons Island Yacht Club, Calvert Historical Society, and the Solomons River Walk to name a few. Elliot loved boats and was a long time member of the Solomons Island Yacht Club which he joined in 1992. He served as treasurer and was on the audit committee for a few years.

He proudly served his country in the U.S. Navy, serving during the Cuban missile crisis. He has been a strong supporter of many community charities. He also wrote a book, "A History of Rousby Hall", which is available at the Calvert Historical Society. He and his wife lived at Rousby Hall for many years. A few years ago, they moved to their final residence on Solomons Island. Elliot Kocen will be deeply missed by his family, friends and community.

Elliot is survived by his niece, Lisa LaFollette of Gastonia, NC, and his nephews, Scott Schiller of Ranson, WV and Don West of Sterrettania, PA; great-nieces and nephews, Donald L. Barr, Thomas Barr, David Barr, Brian Schiller, Jamie Hula and Jordon West; and great-great nieces and nephews, Harper Schiller and Kaeley Schiller.

Family will receive friends on Monday, March 19, 2018 from 12:00 p.m. until 1:00 p.m. in the Rausch Funeral Home, 20 American Lane, Lusby, MD 20657 where a Funeral Service will be offered at 1:00 p.m. with Rabbi Ken Cohen officiating. Serving as pallbearers will be Scott Schiller, Don West and Morgan LaFollette. In lieu of flowers, memorial contributions may be made to the American Cancer Society, 7500 Greenway Center Drive, Suite 300, Greenbelt, MD 20770. Arrangements by Rausch Funeral Home.