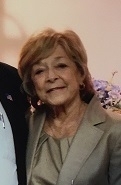 Katherine "Kathy" Elsie Rathbone, 80, of Leonardtown, MD, formerly of Reston VA passed away on March 9, 2018 at her residence. Born on August 2, 1937 in Washington, DC she was the daughter of the late Elsie Dempsey and Thomas Dempsey.

Kathy was the loving wife of her first husband Lawrence Edward O'Rourke who preceded her in death on October 16, 2010. She was also the loving wife of her second husband Deforest Rathbone whom she married on November 20, 2013 in St. Johns Anglican Church Mechanicsville, MD.

Kathy is survived by her children; James Patrick O'Rourke of Manassas, VA, John Thomas Jones of Claysville, PA, Mark O'Rourke of San Diego, CA, Jay O'Rourke of Los Angeles, CA and John O'Rourke, 6 grandchildren and 4 great-grandchildren. She is preceded in death by her brother Robert Dempsey. Kathy moved from Reston, VA to St. Mary's County in 1990.

The family will receive friends on Saturday, March 24, 2018 from 1:00-2:00 PM in Callaway Baptist Church in Callaway, MD. A Memorial Service will follow at 2:00 PM with Pastor Dan Moore officiating. Interment will be held at a later date. Contributions may be made to Callaway Baptist Church Building Fund 20960 Point Lookout Road Callaway, MD 20620, Hospice of St. Mary's County P.O. Box 625 Leonardtown, MD 20650 and/or The Salvation Army. Arrangements by Mattingley-Gardiner Funeral Home.