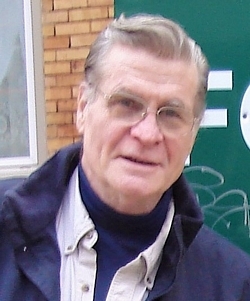 James "Mac" Joseph McNamara, 77, of La Plata, MD passed away on March 9, 2018 at the Washington Hospital Center in Washington, DC. Born on May 6, 1940 in Pittsburgh, PA to the late James J. McNamara, Sr. and the late Agnes (Joyce) McNamara, Mac is also predeceased by his brother, Patrick McNamara.

He is survived by his son, James J. McNamara, III (Marina); daughter, Bridget McNamara; brothers, Steve McNamara (Linda) and John McNamara (Antoinette); companion Sabrina Givens; two nieces; two nephews and 3 grandchildren.

Mac was employed as a police officer (47 years) with the Metropolitan Police Department. He loved being a police officer and enjoyed spending time with his family and friends and taking long drives.

Visitation will be held from 1-4PM and from 6-9PM on Sunday,March 18, 2018 at Arehart-Echols Funeral Home, PA (211 St. Mary's Ave., La Plata, MD). A Funeral Mass will be held at 1:30PM on Monday, March 19, 2018 at the Sacred Heart Catholic Church (201 St. Mary's Ave., La Plata, MD); Interment to be held in Pittsburgh, PA. In lieu of flowers, donations can be made in Mac's memory to HEROES, Inc. (1200 29th St. N.W. Washington, DC 20007).