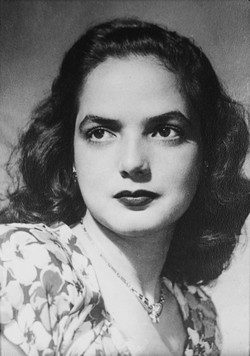 M. Gisela Victoria "Meema" Rowe, 93, returned to her heavenly home on March 9, 2018. Her devotion to her family and her firm belief in God supported her during her life and ultimately gave her peace. Gisela was born in Tulua, Colombia, South America. She was the youngest of seven children.

She is predeceased by her parents, Francisco and Bernarda, sisters Nubia, Yolanda, Mireya, Jania, brothers Teoflio, Guillermo and her husband of 51 years Ret. Cmdr Donald E. Rowe. She is survived by her daughters; Rita I. Leclerc, Gisela M. Victoria, and Gigi M. Bellucci; her son Donald E. Rowe II; her grandchildren; Philip, Denny, and Danielle Leclerc; Gabrielle and Victoria Bellucci; Noah Victoria, and Samantha, Alexander and Isabelle Rowe; great grandchildren; Zachary, Joshua, Jean-Luc, and Chantel Leclerc; and great great grandchildren, Marc Andre Leclerc and Orion Kirkner.

She traveled accompanied by her brother, who was an Admiral in the Colombian navy, to Monterey, CA, where she fell in love and married Ltd. Donald Rowe in 1955 in a grand wedding in Tulua. She followed him to the US Naval Academy and finally settling in Bowie, MD. She was a professional water colorist, painting landscapes and flowers. She sold several paintings. She loved to dance. She was a spiritual woman and involved in many church activities, including sewing costumes and painting sets for the St. John Vianney Drama Ministry, Eucharist Adoration, and she brought the custom of setting up the pesebre (crèche scene) in the St. John Vianney Festival room. Three years ago she decided to live with the Little Sisters of the Poor in Washington DC. There she would attend daily Mass and say the Rosary daily as well as bingo, New Years Eve dances, trips, movies, crafts, etc. She was a most humble person and loved to help anyone that needed a friend.

In lieu of flowers make donation in memory Gisela Rowe to: Little Sisters of the Poor either mailed to: Little Sisters of the Poor, 4200 Harewood Rd, NE, Washington, DC 20017-1511 or online http://www.littlesistersofthepoorwashingtondc.org. Arrangements by Rausch Funeral Home.