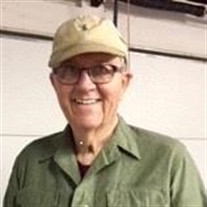 Ronald Edward Thornburg of Dunkirk, passed away Sunday, March 11, 2018 at the age of 76. He was born in Washington, DC on September 2, 1941 to Irma (Gaither) and Marvin Thornburg. He graduated from Suitland High School in 1959 and attended Prince George's Community College, where he was on its first basketball team.

Ron had an abiding interest in fishing, youth and high school basketball, (serving for several years as a boys' club coach and a scout for the Catholic High School League), and was a devoted University of Maryland Basketball, Redskins and Nationals fan. Ron proudly served in the U.S. Marine Corps.

He was the husband of Claudia Miller Thornburg, the father of Chad (Stacey), Jeffrey (Lisa), and Christian (Paula) Thornburg. He is also survived by grandchildren: Zachary, Nicholas, Holly, Fiorella, and Maristella Thornburg; sisters Donna (John) Ratti, Shirley (Robert) Clark; and numerous cousins, nieces, nephews, and family members. Ron was beloved by all! Arrangements by Lee Funeral Home.