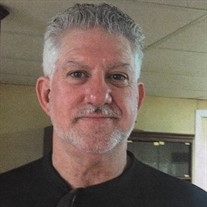 Bret Joseph Gomilla of Chesapeake Beach, MD, passed away peacefully on Tuesday, March 6, 2018, at the age of 60. He was born on February 5, 1958, in New Orleans, LA, to Patricia Mary [White] and John Gomilla. Bret was a graduate of Bowie Senior High School in 1976. During his high school years, he enjoyed participating in sports, especially wrestling. This love of sports carried on into his adult life, playing football and baseball in the local leagues. He was also an avid fan of the New Orleans Saints and the Washington Nationals.

Music was a big part of Bret's life and he found great peace and comfort in it. He played the guitar and was a great music writer. The greatest joy in Bret's life was his family. There was always plenty of laughter, fun and memories made to last a lifetime.

Bret was the beloved husband of Joni A. [Cagliostro] Gomilla and the loving father of Dennis, Nicole and Christa. He was the devoted grandfather of seven grandchildren; Dominic, Joey, Dahlia, Tyler, Molly, Victor and Layla. He is also survived by his parents and siblings; Kevin, Susan, Cher and Gina. He will be greatly missed by his two faithful companions, "Jocie" and "Roxy Rose". Bret was preceded in death by his brother Michael.

Family invites friends to Lee Funeral Home Calvert, 8200 Jennifer Lane, Owings, MD 20736 on Monday, March 12 from 3 to 7 pm. A Mass of Christian Burial will be celebrated at the Covenant Community of Jesus the Good Shepherd Catholic Church, 1601 W. Mt. Harmony Road, Owings, MD on Tuesday, March 13 at 11 am. Interment will follow in Jesus the Good Shepherd Cemetery located on the church grounds. Memorial contributions may be made in Bret's name to Calvert Hospice, P O Box 838, Prince Frederick, MD 20678 or Calvert County Humane Society, P O Box 3505, Prince Frederick, MD 20678.